Located just west of Wildwood, St. Albans is a hidden gem that often gets overlooked.
This country club community is known for its custom homes, beautiful landscapes, and great amenities.
If you're moving to St. Louis, and you're on the hunt for the perfect area to call home, this is our in-depth guide to living in St. Albans.
The Country Club of St. Albans
At the heart of St. Albans is the prestigious Country Club of St. Albans, which serves as the community's centerpiece.
The country club is in the middle of everything, and all the neighborhoods stem off from the country club grounds.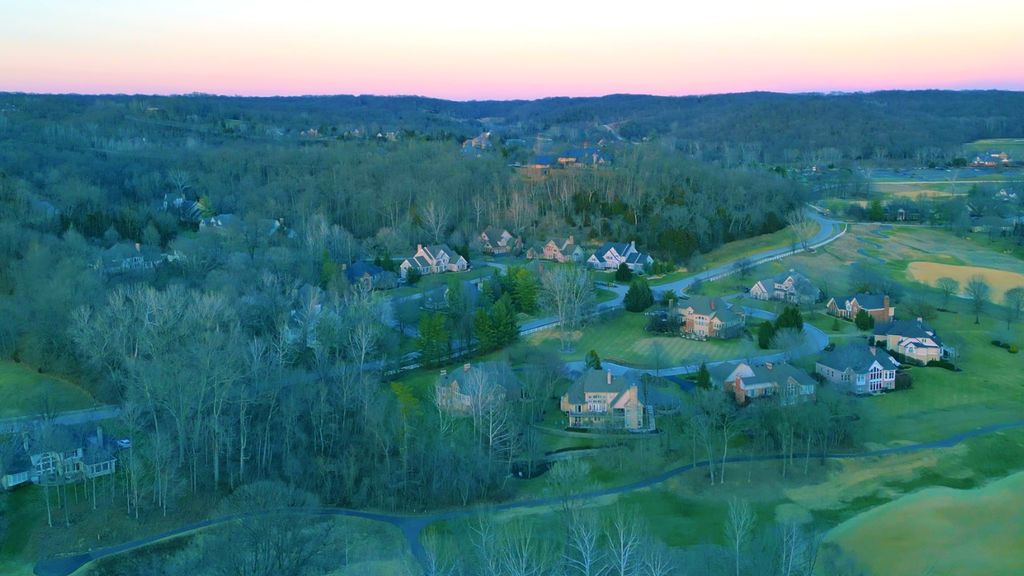 The country club offers:
Two world-class golf courses
A stunning clubhouse,
Tennis courts
Swimming pools
Tons of social events
St. Albans is a unique combination of natural beauty and upscale living. It feels like a self-contained community of its own.
Along with the country club amenities, St. Albans also features walking trails, lakes, and a quaint village complete with villas, shops, a bed and breakfast, hotel, and wedding venues.
St. Albans isn't just a country club, it's a beautiful community and lifestyle of its own.
Living in St. Albans
St. Albans is renowned for its gorgeous, custom homes and luxurious estates.
Some are right on the golf course. Some have woods in the backyard. And some are perched on bluffs overlooking the Missouri River, offering breathtaking views for miles.
A lot of the homes in St. Albans are architectural masterpieces. You'll see mainly brick, stucco, and stone exteriors. The community is surrounded by plenty of forests, walking trails, and pristine golf courses.
It's a unique feel that is hard to find in other parts of St. Louis.
Location and Commute
Living St. Albans can feel a bit secluded compared to the busier suburbs of St. Louis. St. Albans is located:
Driving into St. Louis City
You'll need to drive to either Highway 64 or 44 to get to St. Louis from St. Albans.
Both of which can be busy during rush hour, and you're a good 15 minutes from either one in St. Albans. The trade-off is a peaceful, quiet, and gorgeous living experience for a slightly longer commute downtown.
Homes in St. Albans
St. Albans tends to be a higher-priced area compared to other parts of St. Louis.
Home prices in St. Albans tend to start in the $500,000 range and can go up to multiple millions.
A Slower Housing Market
The thing with St. Albans is it's usually a slower-paced market. The homes sit on the market longer.
The homes above $1.5 million sometimes get listed multiple times over the course of a year or two before finally selling.
Things to Consider When Moving to St. Albans
While St. Albans has much to offer, there are a few factors to consider before making the move.
The owners association can be pricier compared to other suburbs. Most neighborhoods here have annual dues of about $2,000.
These HOA dues usually cover:
Landscaping
Maintenance
Lighting
Gates & entrances
When you buy a house in St. Albans there is a one-time $1,000 contribution to the owners association due at closing.
Amenities at St. Albans
Golf courses
St. Albans features two championship golf courses: the Lewis and Clark Course and the Tavern Creek Course.
Lewis and Clark Course
Designed by Tom Weiskopf and Jay Morrish, the Lewis and Clark course opened in 1992.
It's known for its challenging layout, picturesque views, and elevation changes.
This course was named after the famous American explorers Meriwether Lewis and William Clark, who passed through the area during their historic expedition in the early 19th century.
Tavern Creek Course
Designed by Dr. Michael Hurdzan and Dana Fry, with PGA Tour professional John Cook as a consultant, the Tavern Creek Course opened in 1999.
The course offers a slightly different experience from the Lewis and Clark Course, with a more natural, rolling terrain and strategically placed obstacles.
Attractions nearby
For those who love exploring, you might love a day trip out through Washington and Augusta to stop by the wineries.
If you live on the bluffs in St. Albans, you can actually even see Augusta on the other side of the river!
Public Schools in St. Albans
Families moving to St. Albans will be pleased to know that the community is served by the highly-rated Washington School District.
It's known for its excellent academic programs and extracurricular activities. There are also several reputable private schools in the area.
Why we love St. Albans
St. Albans is truly a hidden gem that offers a unique blend of luxury, seclusion, and natural beauty. A few of the highlights of St. Albans:
Stunning homes
Country club amenities
Cute town village
Top-rated schools
Peaceful setting
Although the cost of living in St. Albans is higher than in other areas of St. Louis, the benefits of a close-knit community and breathtaking landscapes make it well worth the investment.
If you're in the market for an upscale country club community to call home, St. Albans should be on your list. If you want to talk more about moving here, don't hesitate to reach out to us!
We are always thrilled to help new clients moving to the St. Louis area. If St. Albans isn't quite your style, or it's too far away, you might enjoy living in Wildwood or living in Chesterfield.
They're both still western St. Louis suburbs, but they're much larger than St. Albans and have more things to do.