Whitmoor Country Club is a premier residential community within Weldon Spring.
It is one of the top country club communities in St. Louis, and it's the largest in St. Charles county. It is a great place for golfers, families, and anyone looking for a top-notch social atmosphere.
Here are some of the top features of Whitmoor's community:
Two 18-hole golf courses
4,000 sqft fitness center
Two pools
Tennis courts & pickleball courts
Homes ranging from small villas to 12,000 sqft estates
Homes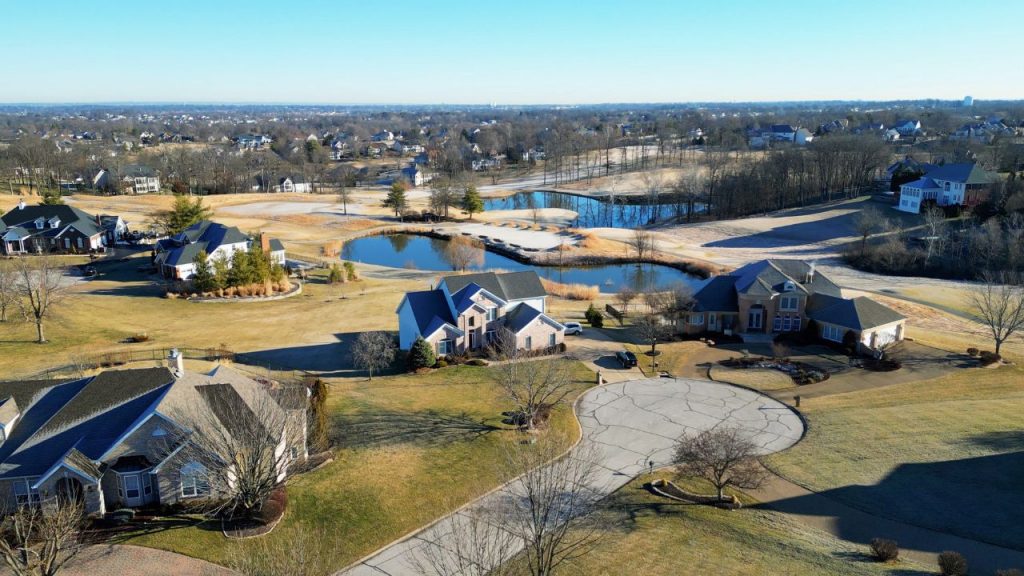 Whitmoor includes some of the most prestigious and well-designed homes you'll find in St. Charles County. Plus, Whitmoor has several types of homes to choose from.
The main categories are:
Villas
Cluster homes
Estate homes
Whether you're looking for a maintenance-free villa, an atrium ranch on the golf course, or a 12,000 sqft estate with a pool, Whitmoor has it all.
The homes range in price from $500,000 to $3 million.
The neighborhood is also known for its golf carts, which are used to get around the neighborhood and to the clubhouse and pool.
The attached villas in Whitmoor are the smallest option you'll find and they typically start from $450,000 – $500,000.
Many villas are actually sold off market because there aren't many to begin with, and they're highly sought after.
The cluster homes are the next size up, ranging from 2,500 to 3,500 square feet.
The estate homes are the most common you'll see and the biggest option in terms of square footage.
They'll go anywhere from $600,000 to $3 million.
Upper Whitmoor is the highest-end neighborhood within Whitmoor, home to some of the most exquisite and custom estates in the St. Louis area.
Homes here typically hit the market from $1.5 million to over $4 million.
The Golf Courses
Whitmoor Country Club is known for its two stunning golf courses, the North Course and the South Course.
Both courses were designed by renowned golf course architect Keith Foster and feature beautifully manicured greens, challenging holes, and scenic views.
The courses are open to members and their guests, making it easy to enjoy a round of golf on a whim.
Amenities
Living in Whitmoor Country Club means enjoying access to a wide range of top-notch amenities.
The community features a clubhouse with a restaurant, bar, and event spaces, as well as a fitness center, tennis courts, pickleball courts, and 2 swimming pools.
Whether you're looking to work out, relax by the pool, or host a party, there's something for everyone in Whitmoor.
Membership
Whitmoor Country Club was recently bought by Concert Golf Partners, and they are making changes to the membership structure.
They are offering full golf memberships and social memberships. They're also restructuring the pricing structure.
The club was originally built and managed by the Whittaker family who sold to the new owners.
Whitmoor Country Club Membership Dues
Here is a quick breakdown of Whitmoor Country club cost of membership by age group.
| Membership Type | Initiation Fee | Monthly Dues |
| --- | --- | --- |
| Full (Ages 40+) | $5,000 | $500 |
| Intermediate (Ages 36-39) | $3,500 | $400 |
| Junior (Ages 35 and under) | $2,500 | $350 |
| Social | $1,000 | $250 |
All of Whitmoor's membership options include a spouse and kids under the age of 25 who live at home.
FULL GOLF MEMBERSHIP (AGES 40+)
Initiation Fee: $5,000
Monthly Dues: $500
Monthly Service Charge: $80
Benefits:
Two – 18 hole championship golf courses
A 4,000 square foot Fitness Center with 24 Hour Access
Three Premium tennis courts with the services of a world class instructor.
A beautiful outdoor pool, perfect for swimming or relaxation.
Junior Programs for golf, tennis and swimming.
Upscale Ala Carte dining upstairs with an adiacent fully stocked bar/lounge.
Live music in the Lounge on select Friday nights throughout the year.
A club where family and friends can come together and really feel at home.
INTERMEDIATE GOLF MEMBERSHIP (AGES 36-39)
Initiation Fee: $3,500
Monthly Dues: $400
Monthly Service Charge: $50
Benefits:
Same privileges as the Full Golf Membership
When you reach the age of 40, your membership will automatically be converted to the Full Golf Membership level. No additional initiation fee will need to be paid.
JUNIOR GOLF MEMBERSHIP (AGES 35 AND UNDER)
Initiation Fee: $2,500
Monthly Dues: $350
Monthly Service Charge: $50
Benefits:
Same privileges as the Full Golf Membership
When you reach the age of 36, your membership will automatically be converted to the next Golf level. No additional initiation fee will need to be paid.
SOCIAL MEMBERSHIP
Initiation Fee: $1,000
Monthly Dues: $250
Benefits:
Full access to all the non-golf amenities.
Can play 6 rounds of golf as a Guest of a Golf Member with the payment of a greens & cart fee.
There is an automatic service charge of 20% on food & beverage charges.
Please note: These prices are as of April 2023 and subject to change in the future
Whitmoor Country Club Fees
Aside from membership dues, here are the other fees at Whitmoor: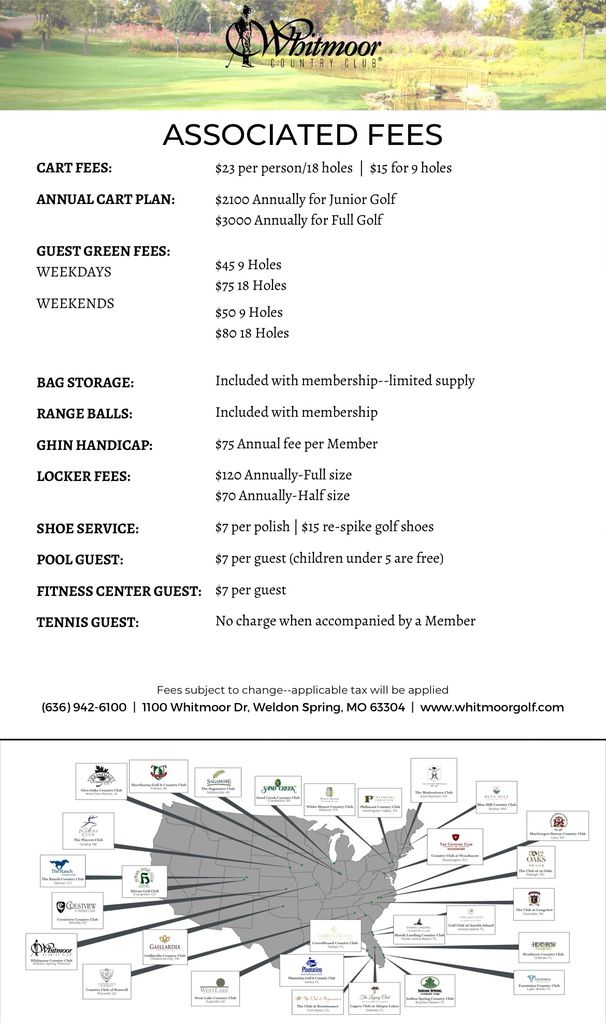 The Community
Whitmoor is part of Weldon Spring, but it's also a close-knit community of its own. One of the best things about living in Whitmoor Country Club is the sense of community you'll experience.
From holiday parties to charity events, there's always something going on in Whitmoor.
Everyone loves driving golf carts around, whether they're going to the clubhouse, the pools, or visiting friends down the street.
Rumor has it you can even drive into Old Town Cottleville from Whitmoor! Just be careful getting around route 94 (which is a pretty busy highway)
Moving to Whitmoor
If you are looking for a great place to live in the St. Louis area, Whitmoor Country Club is a great option.
It's one of our favorite communities, and we love helping our clients moving to the area.
If you'd like to talk more about what Whitmoor has to offer, get in touch with us! We'd be thrilled to help you with the home buying or selling process.