Wildhorse Village is a $500 million mixed-use development in the middle of Chesterfield.
Combined with the Chesterfield Mall redevelopment, it is the largest development happening in West county.
From townhomes to luxury office space to million dollar single-family homes, Wildhorse village is bringing a lot of growth to Chesterfield.
The Vision
The vision for Wildhorse Village is to become a live, work, play community in the middle of Chesterfield.
It'll have plenty of open green space, 15-acre lake with walking trails, public art, and commercial & retail space on both sides.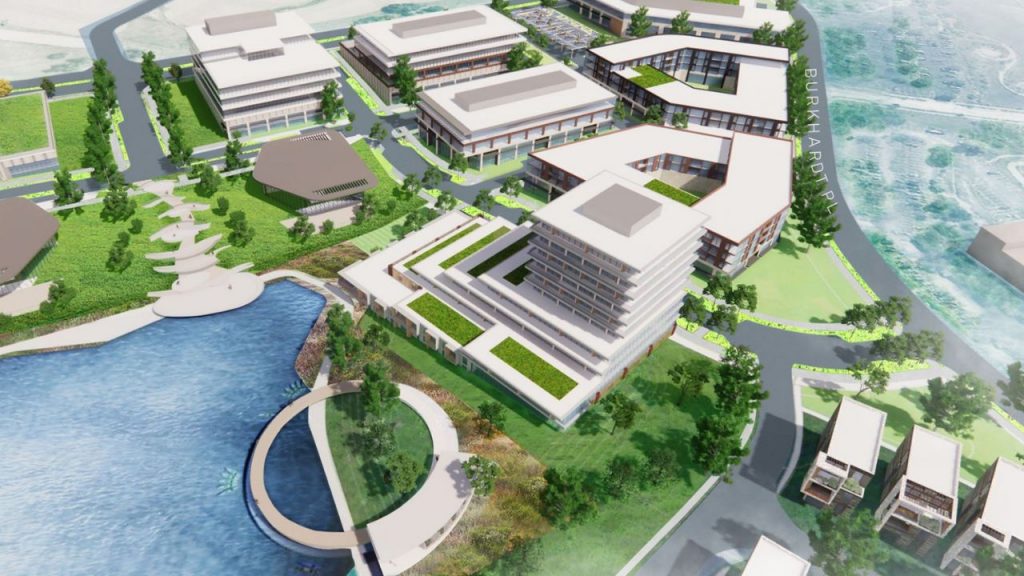 There will also be a terraced plaza and stepped amphitheater off of Chesterfield Parkway.
There will be 635 residential units in total. This includes over 500 rental units, 104 condominiums, 72 townhomes for sale, and 35 single family residences
Single family homes – The Waterfront at Wildhorse
McKelvey is building 35 luxury single family homes starting from the $1,000,000's. These homes are called the Waterfront at Wildhorse.
With pricing, keep in mind there are many luxury upgrades. The average selling price after upgrades is expected to be around $1,450,000 at Wildhorse Village.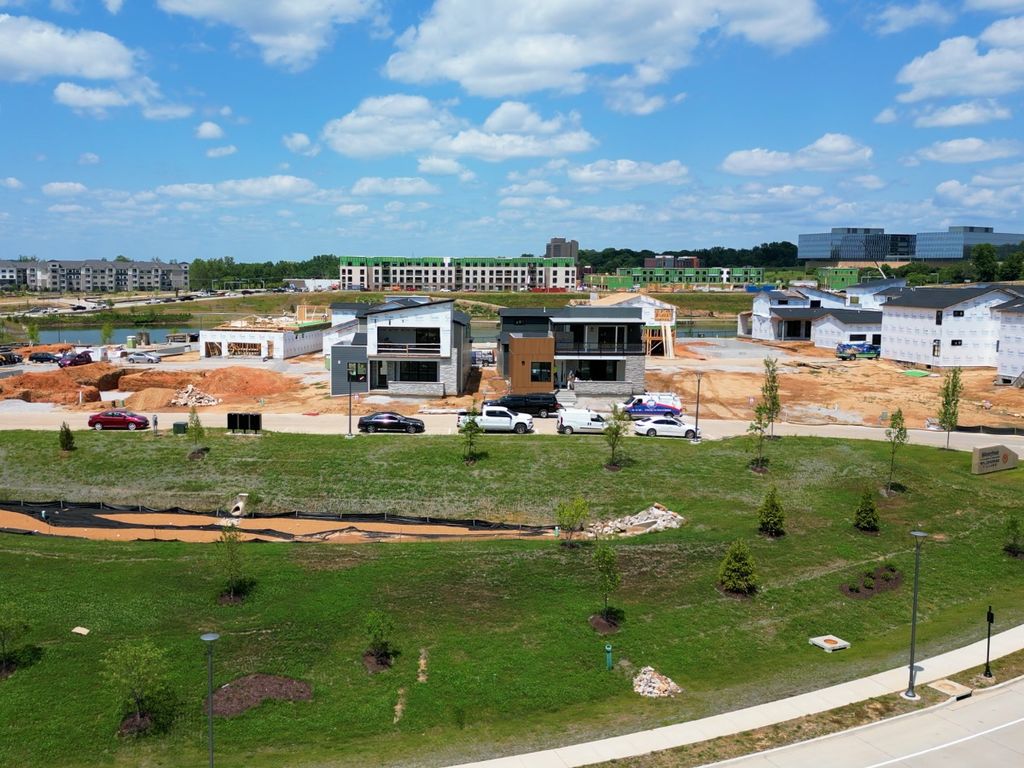 They actually bought the designs from a builder in Scottsdale, Arizona so this will be a new and much more modern style by McKelvey.
Luxury features – The Waterfront at Wildhorse
These homes range from 2500 to 3500 square feet and will feature modern interiors, privacy walls, rear-entry garages, and a very walkable, urban setting.
They've got so many upgrades to choose from, it's incredible. The kitchens will be equipped with stainless steel appliances, including a built-in single wall oven, gas cooktop, built-in microwave, chimney hood, and dishwasher.
The cabinets are full overlay painted or stained maple with 42″ upper wall cabinets, and the countertops are your choice of granite or quartz.
Quality bath appointments include Moen single-lever "Genta" chrome faucets, elongated comfort height toilets, and cultured marble vanity tops.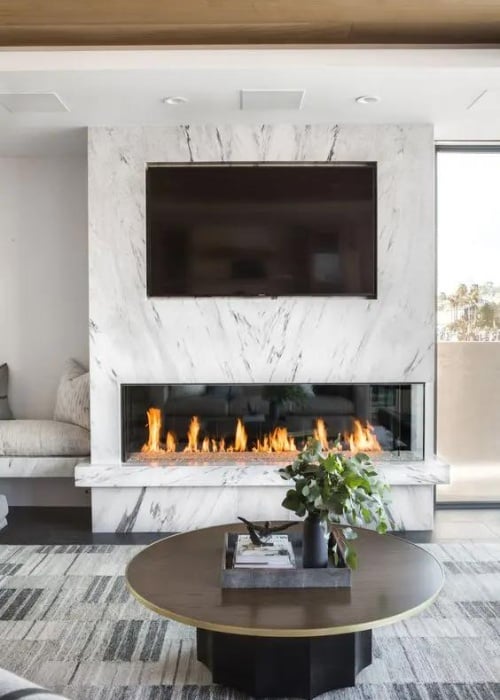 Additional interior features include:
Linear direct vent gas fireplace with marble surround
Custom staircase with wrought iron spindles
10′ first-floor ceilings
Wood floors in main gathering spaces
The Townhomes for sale – Townes at Wildhorse
Fisher Homes is building 72 luxury attached townhomes called the Townes at Wildhorse starting from $650,000. These are the first townhomes of their kind in Chesterfield.
Originally Payne Family homes was going to build these townhomes, but they were bought by Fischer in 2021.
The Townes at Wildhorse will be built in groups of 3, so each building will have 3 townhomes for sale.
The Clifton model offers three levels of living space and a rear-entry garage.
On the ground floor, you'll find a finished recreation room, with the option to include a study or guest suite with a full bath.
The main level features a spacious kitchen with a generous walk-in pantry or pocket office combo, along with convenient access to an outdoor living area. A versatile dining area connects the kitchen to the bright and airy family room.
Customize this main level by centering the kitchen to create an oversized island and allowing direct access to the outdoor space from the family room.
The upper level includes:
A private owner's suite with an en suite bathroom
Two additional bedrooms
A full bath
Laundry room
Alternatively, you can choose an upper-level design that offers two owner's suites, each complete with private en suites and walk-in closets.
Experience modern townhome living in style at The Townes at Wildhorse.
The Condos – Audere Residences at Wildhorse Village
Welcome to the Audere Residences at Wildhorse Village, your luxury lakeside haven.
These luxury condos are starting from the low $1,000,000's and there will be 4 lakeside buildings.
These condos offer a brand new type of luxury condo living with lakefront views in Chesterfield.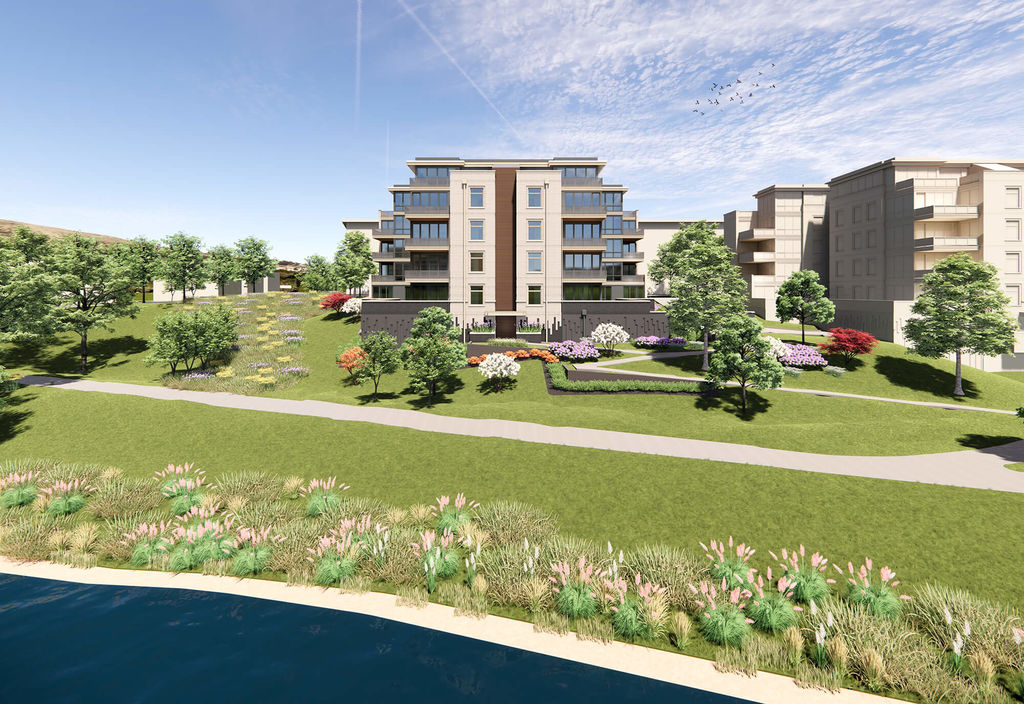 These are the first truly luxury, contemporary condo buildings to be built in Chesterfield.
There currently isn't any condo building within the high-end market in Chesterfield; it's all single family homes and villas.
The closest thing that currently exists are small townhome and condo associations, but they are smaller and more dated compared to the Audere Residences.
There will be four buildings with 16 units each and a large 48-unit building on the other side of the water.
Imagine condo living with miles of meandering trails, thoughtfully curated amenities, and breathtaking waterfront views.
Features like floor-to-ceiling windows and sand-tone brick in the Audere Residences evoke the feeling of a coastal bluff perched above the shore.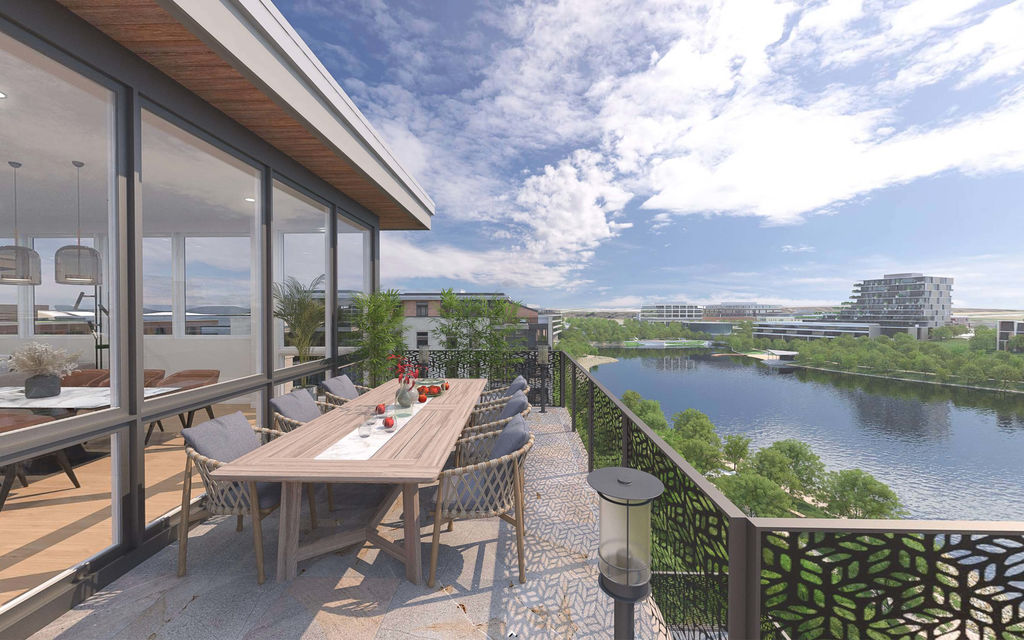 Plus, the units will feature spacious outdoor terraces for you to enjoy the views right on the lake in Wildhorse Village.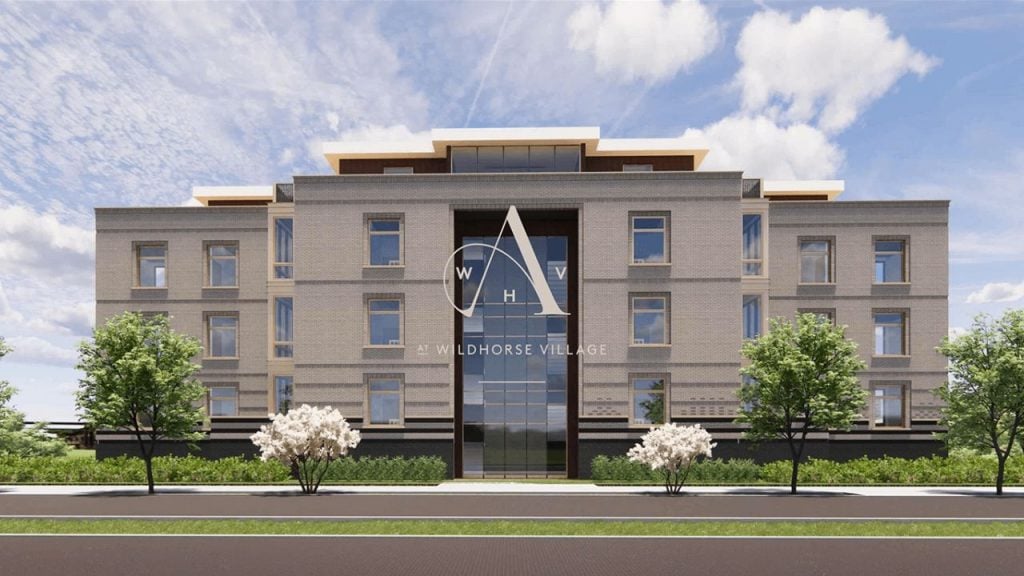 These waterfront condos will have everything you could ask for in a luxury condo:
2 parking spaces per unit
Keyless exterior entry
Keypad home entry
Secure package room
Home technology package
Climate-controlled storage unit
Discover the all-season luxury and active living that is waiting for you at the Audere Residences in Wildhorse Village! Reach out to us if you'd like more details about pricing and timeline for construction.
Luxury Apartments – The Flats at Wildhorse
Brand new luxury apartments coming to Chesterfield! The biggest apartment building within Wildhorse Village is under construction known as the Flats at Wildhorse Village.
The largest apartment building in Wildhorse Village is a 266 unit luxury apartment building right across from the townhomes by Fischer.
It is expected to be similar to the Wildhorse Apartments and Aventura Apartments just across the street.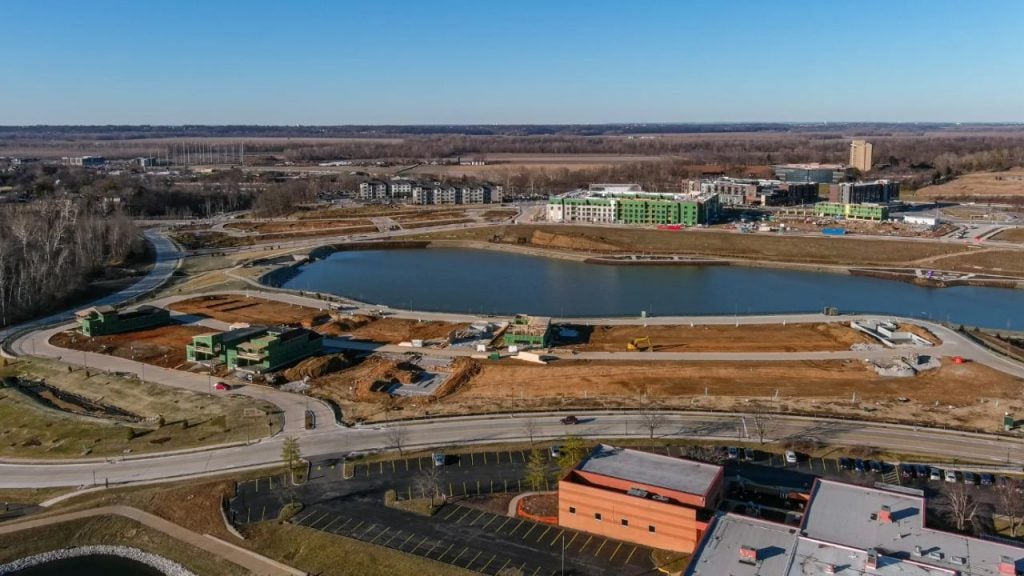 Townhomes for lease – The Terraces at Wildhorse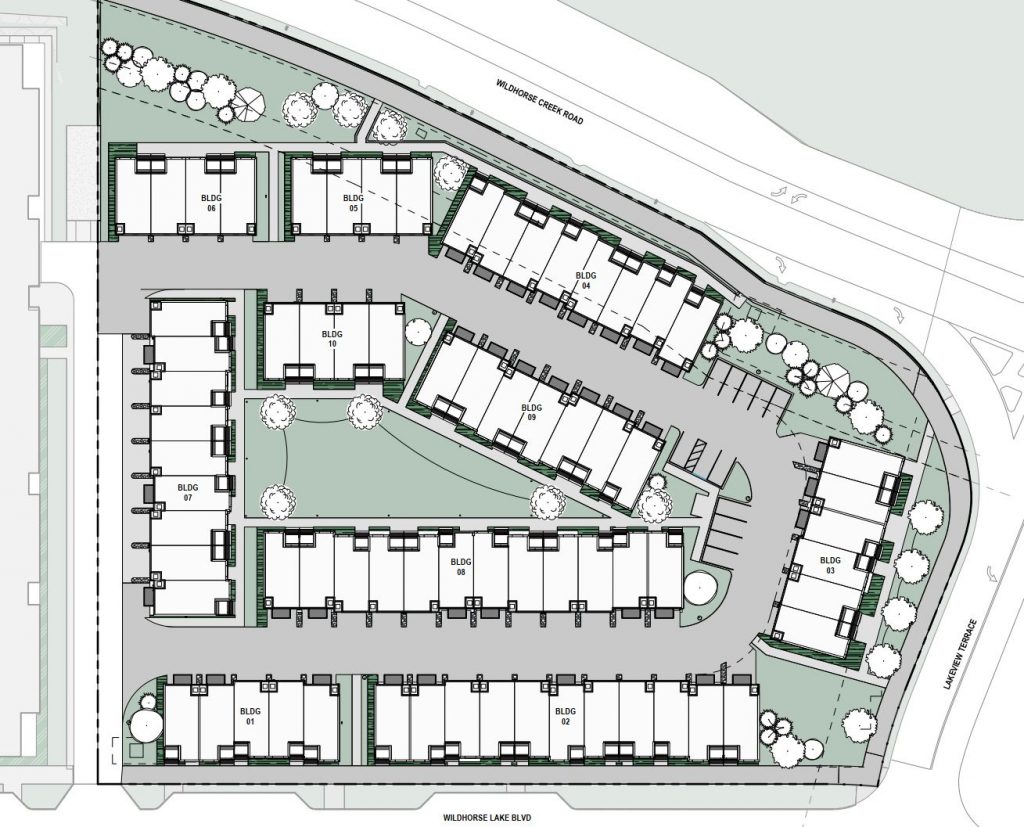 The Terraces at Wildhorse is projected to include 70 different townhomes for rent in 10 buildings. It will be right next to the Flats, and these townhomes will range from 4 to 12 units per building.
Wildhorse Village: 2023 Progress update
Check out our YouTube video showcasing the progress so far at Wildhorse Village!
Office Space and Retail
The Wildhorse Village will also have office space, retail, restaurants, and a grocery store all built by Clayco development.
This includes the 70 unit townhomes for rent, the four condo buildings, and 35 single family homes by McKelvey.
The Future of Chesterfield
Wildhorse Village is an exciting new project, and it's one of the largest new developments in Chesterfield.
With townhomes, apartments, condos, and single family homes, there is something for everyone.
The renderings give us a better idea of what it will look like when it is finished.
If you are interested in any of these residential places, contact us and we can help you get placed in the Wildhorse Village.