Clayton, Missouri is an urban, city-like suburb in St. Louis county. It's the business center of the county. 
Clayton is known for its upscale living, high-rise buildings, and its beautiful architecture. You'll see everything from the historic to the modern homes you'll see here.
Whether you're looking for a fixer-upper or a luxury penthouse, Clayton has something for you.
Neighborhoods in Clayton
Clayton is home to a wide variety of architectural styles. From historic brick homes to modern farmhouses, you'll see the old and the brand new. 
You'll usually see homes start at $600,000 and go all the way up to $5 million for a luxury home.
You'll see a lot of townhome style detached homes in Clayton.
They're usually smaller compared to what you can find in Town & Country or Chesterfield. A lot of these homes usually have a tuck-under garage or rear-entry garage, leaving a small backyard.
Lots in Clayton can be pretty compact especially when there's a driveway, garage, or patio at the back of the house.
So if you prefer having more backyard space and woods in the backyard, you might prefer living in Town and Country over Clayton. Ladue, Creve Coeur, and Chesterfield are other areas that will also come with more yard space than Clayton.
You'll also see plenty of condos in Clayton, ranging from $100,000 to $3 million. Some are in small, boutique buildings, and some are in larger high-rises like the Ritz Carlton condos at 150 Carondelet plaza.
Some of these big condo buildings will have more amenities like doorman service, private garage parking, pools, and fitness facilities.
Keep in mind, these big buildings will have higher HOA's that could run you $500 to $2,000 a month.
Clayton: The Financial hub of St. Louis County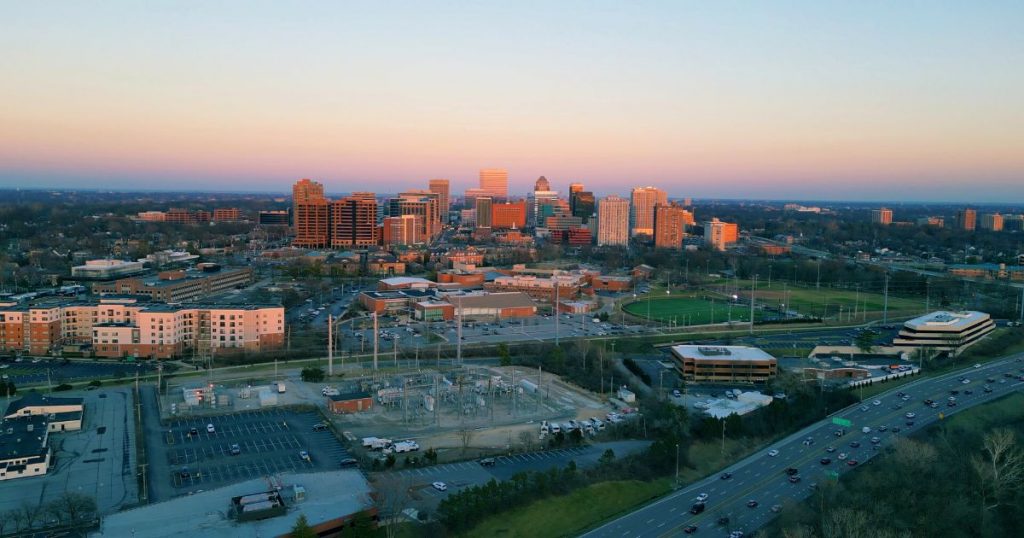 Clayton is known as the financial hub of St. Louis County. It is home to a variety of financial companies, law firms, accounting firms, and commercial real estate companies.
Downtown Clayton is booming with activity.
Everyone goes out to lunch, and a lot of restaurants will have happy hour after work.
The downtown area is also home to a variety of restaurants, ranging from local favorites to five-star establishments. Popular restaurants include 801 Chop House, 801 Fish, Capital Grill, Morton Steakhouse, and Cafe Napoli.
Parks in Clayton
Shaw Park is a great facility located right next to downtown Clayton. It features an outdoor pavilion, ice rink, pools, tennis courts, and walking trails.
Shaw Park is a great place to take the family for a day out, and it's the best spot in Clayton to enjoy the fireworks on the Fourth of July.
Things to do in Clayton
Clayton has a bunch of options to get lunch, dinner, or drinks. Popular restaurants include Garbanzo, Chinooks, and Tani Sushi.
There are also a variety of wine bars, steakhouses, and pasta restaurants.
Clayton is also home to the Ritz Carlton, which has a steakhouse and fish house. For a more casual atmosphere, there is Cantina Laredo, Pasta Ria, and Gelato.
There's a nearby shopping center called the Shoppes at Ladue, right on the corner of I-170 and Ladue Rd which has a bunch of stores, a grocery store, Barnes & Noble, and some restaurants.
The St. Louis galleria is right down the street in Brentwood which is the closest shopping mall and one of the biggest malls in St. Louis.
Moving to Clayton, MO
Clayton is a great place to live if you're looking for an urban lifestyle.
It is home to a variety of architectural styles, ranging from traditional brick homes to modern farmhouse-style homes. Living in Clayton is never boring, that's for sure!
If you're moving to the area, don't hesitate to get in touch with us! We'd love to share our real estate knowledge and help find the perfect home for you in St. Louis 🙂