O'Fallon is a gorgeous part of town, and it's the largest suburb of St. Louis. If you're considering a move to this part of St. Charles county, you may want to consider a few pros and cons of living in O'Fallon.
Pro 1: New Construction
O'Fallon has a ton of new neighborhoods and builders to choose from if you are looking for a brand new house. You can get a lot of nicer finishes, bigger house, and more structural options for much less than you would in St. Louis county.
Even compared to the parts of STL county with a lot of new construction, like Chesterfield, O'Fallon will have more options and better prices.
Some examples of the communities you can choose from are Streets of Caledonia, Shady Creek, Amberleigh, Sommerlin, and Enclave at Brookside.
Pro 2: Everything is Close
O'Fallon is huge and you are within five to ten minutes of almost everything. Shopping centers, grocery stores, post offices, schools, and gyms are all close by. Especially along highway K, there is a lot of commercial space for all your shopping needs.
If you're enjoying this article, feel free to also check out the YouTube video!
Pro 3: Outdoor Activities
The city of O'Fallon does a great job at providing family friendly activities and outdoor space. There are several parks and plenty of things to do outside.
There are tons of playgrounds and events, and during the holidays they put on an excellent Christmas display at Fort Zumwalt Park. O'Fallon also has an outdoor water park called Alligators Creek that kids love during the summer.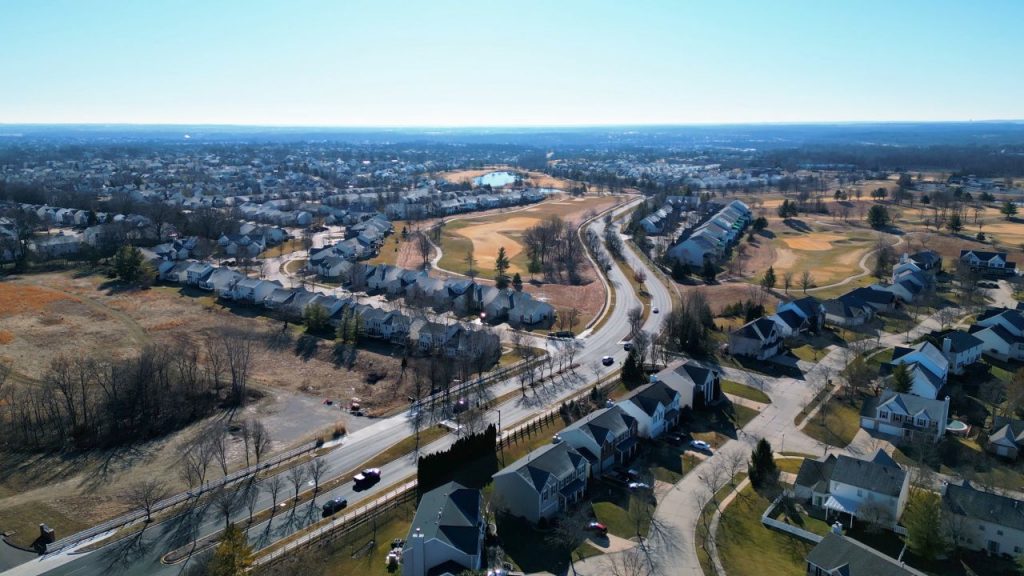 If you're into golf, O'Fallon has Winghaven country club which offers golf and social memberships. The Winghaven community is actually its own little pocket of O'Fallon that includes the country club, surrounding neighborhoods, parks & commercial areas.
Con 1: Suburban Sprawl
One thing you might not like: O'Fallon is a big sprawling suburb. It's been built up a lot over the last 20 years, but it's nothing like city living.
You need a car to get around, and you can't get into St. Louis without taking one of the highways. The roads can be busy, especially along highway K with a bunch of traffic lights.
There are a lot of chains in O'Fallon – that could be a pro or a con depending on your personal preferences. You won't find as many local boutiques in O'Fallon as you will in the city of St. Louis. Cottleville and Main Street in St. Charles are two of the exceptions in St. Charles county that are known for their quaint, charming, and small town feel.
Con 2: Distance from St. Louis
O'Fallon is about 30 to 40 minutes outside of downtown St. Louis. Keep this in mind if you plan on going into the city for work, or just for fun. If you want to go to a Cardinals game or visit the zoo, expect around a 30-minute commute.
O'Fallon definitely has traffic during rush hour, especially heading west on I-64. It drops from 4 lanes to 2 after the highway K exit, so there's usually a slow down in cars from O'Fallon all the way to Wentzville from 4-5pm on weekdays.
Con 3: Cookie Cutter Neighborhoods
Some of the houses in O'Fallon can be cookie cutter and lack the charm of a traditional St. Louis home. Some builders only offer two to four different floor plans, so there is only so much variety you can have.
Is it right for you?
O'Fallon is a great place to live with plenty of new construction, outdoor activities, and close proximity to shopping. However, it is a very big suburb and it won't offer that urban lifestyle that's easy to find in St. Louis City. It is also about 30 to 40 minutes outside of downtown St. Louis, so if your commute is into the city, or even Clayton it will take you longer to get there. Despite all that, O'Fallon is a gorgeous part of St. Charles county and has so much to offer if you're moving to this part of town.
If you are considering moving to O'Fallon, Missouri, hopefully this article has given you a better idea of the pros and cons of living there.