Living in Lake St. Louis is as close to vacation-style living as you can get near St. Louis.
In this article, we'll go over the biggest things to know about this lake community.
Lake St. Louis is a gorgeous, master-planned community in central St. Charles county. It's comprised of two lakes:
Lake Sainte Louise (small lake)
Lake Saint Louis (big lake)
The area was developed as a resort community in the 70's to offer waterfront living 45 minutes from Downtown St. Louis.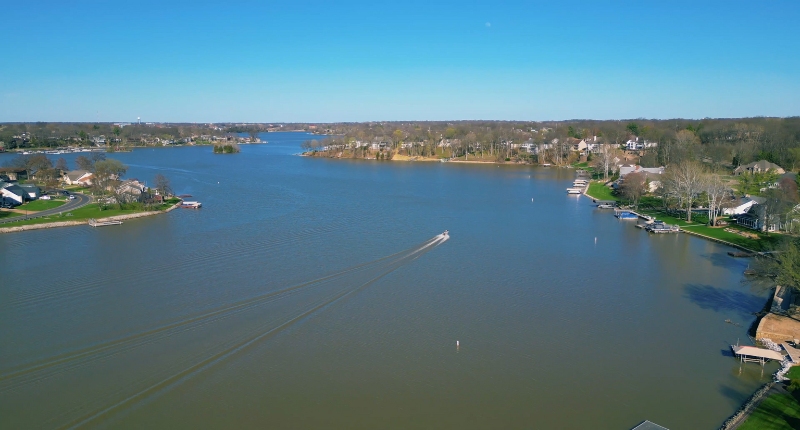 How big is Lake St. Louis?
Lake St. Louis is 600 acres in size, and Lake Sainte Louise is 85 acres.
Lake St. Louis is the big lake with fewer restrictions on what kinds of boats are allowed on the lake and higher speed limits. Lake Sainte Louise is the quieter lake of the two, with more restrictions.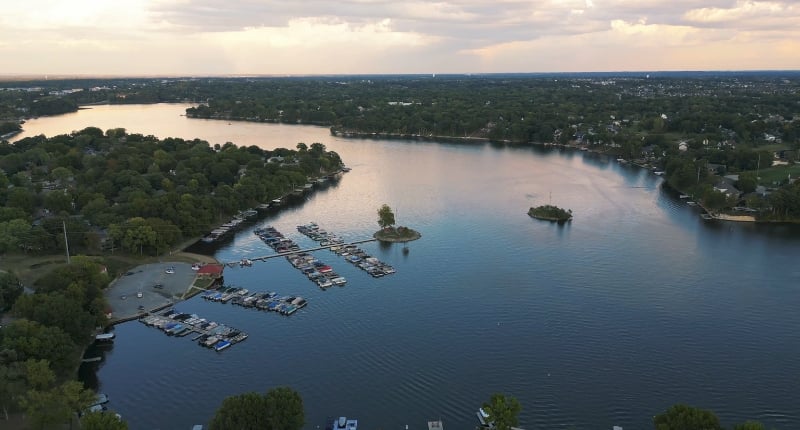 Lake St. Louis has plenty of docks, marinas, swim areas, and boat ramps for those who want to access the lake.
Take a look at this map below for locations of marinas, boat ramps, and docks in Lake St. Louis: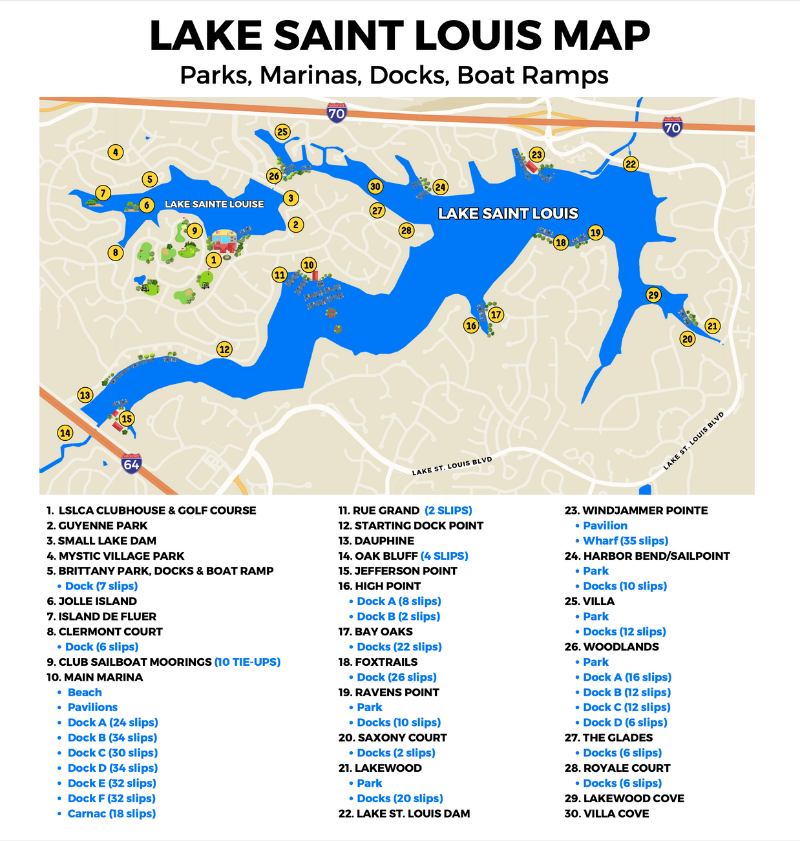 If you live in Lake St. Louis keep in mind the boundaries of the Community Association (CA for short). The CA is what determines who has "lake rights" in Lake St. Louis.
The Lake St. Louis Community Association
The Lake St. Louis community association (LSLCA, or just CA) is one of the biggest reasons people want to live here. It's a private homeowners' association.
You can only be a member if you have lake rights, usually by owning property within CA boundaries.
If you're fortunate enough to have lake rights, you gain access to all the amenities of Lake St. Louis like:
The 20,000 square foot clubhouse
Pools
Tennis courts
Marinas
Beaches
Parks
Social clubs
The clubhouse is the social center of LSL and it has:
3 pools
Dining hall
Full-service bar
Lounge areas
Event space you can rent out
There's over 50 social organizations you can join through the CA. These clubs do all sorts of activities like golf, dancing, boating, arts & crafts, and gardening.
Here's the current list of 54 social clubs within the CA: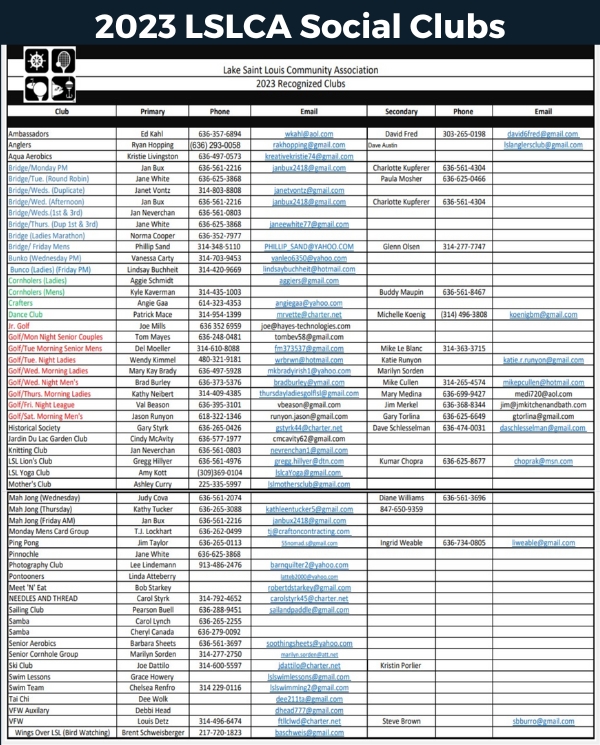 The CA is one of the biggest highlights of living in Lake St. Louis. You can even join one of the clubs if you're not a CA member, as long as overall club membership has 2/3 membership ratio.
Lake Rights and Amenities in Lake St. Louis
Lake rights give you access to all the fun stuff in Lake St. Louis. It's a huge social scene with all the fun stuff to do with friends and family.
The CA is like a really big HOA that has a better version of block parties and a really big central hangout spot (aka the clubhouse).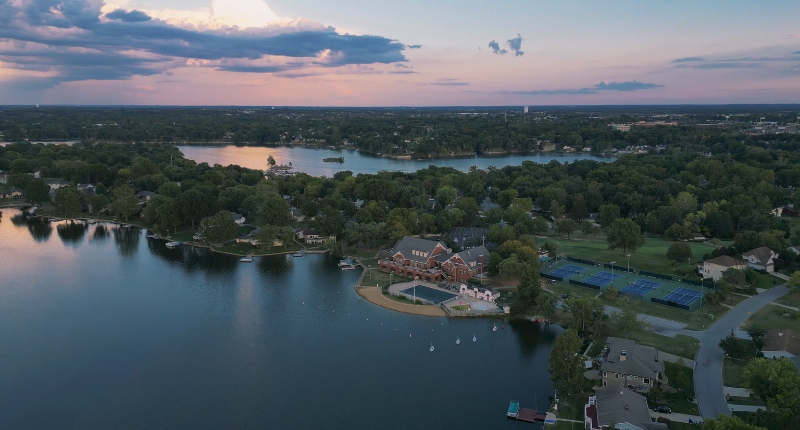 Living in Lake St. Louis the city does not automatically mean you are in the CA boundaries (and have lake rights).
Lake St. Louis Boundary Map
There are about 4,000 properties that have lake rights.
The CA boundaries are outlined in orange in the map below to show which neighborhoods have lake rights: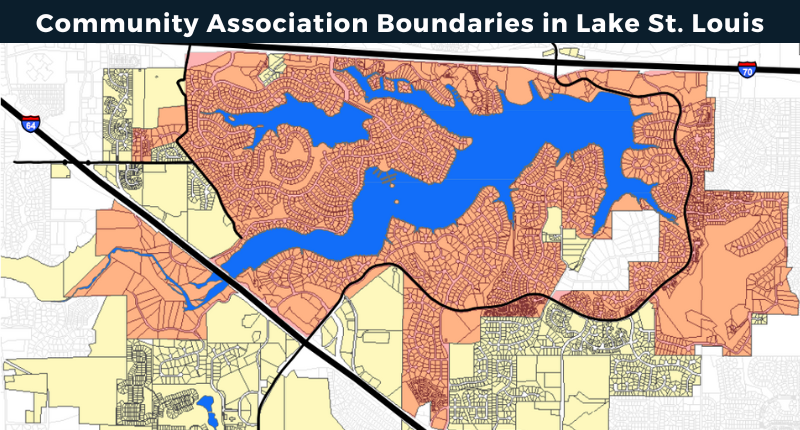 You can also find the map on the LSLCA website. As you can see, the cutoffs are kind of wonky where some neighborhoods are excluded.
If you own property in the orange region, you have lake rights.
Living in Lake St. Louis does NOT guarantee lake rights
It's very important to know that the City of Lake St. Louis is different from the community association. The CA boundaries were established before the city was formed.
If you live in Lake St. Louis but don't have lake rights, it's pretty much the same as living in O'Fallon or Wentzville.
How to tell if a house has lake rights
Here's the thing about looking for houses in the CA– Zillow doesn't always tell you when a house is in the CA.
You'll want to check if the listing description mentions the CA or lake rights.
If the description doesn't state whether it's within CA boundaries, you can call the LSLCA office and they will tell you if it has lake rights.
You can also download this excel sheet which lists all addresses in the CA.
Unfortunately the city doesn't have an easier way to search for addresses… you have to filter the excel sheet…
Neighborhoods and Waterfronts in LSL
The style of neighborhoods you'll see is very similar to O'Fallon, Wentzville, and Dardenne Prairie… But Lake St. Louis is known for the amenities and social scene that come from having access to the lakes.
Homes within the CA sell for a premium compared to similar houses that do not come with lake rights. 
Homes here range from small ranches and split-levels all the way to executive estates.
There are dozens of subdivisions, and many of the best neighborhoods in Lake St. Louis have plenty of options for waterfront homes.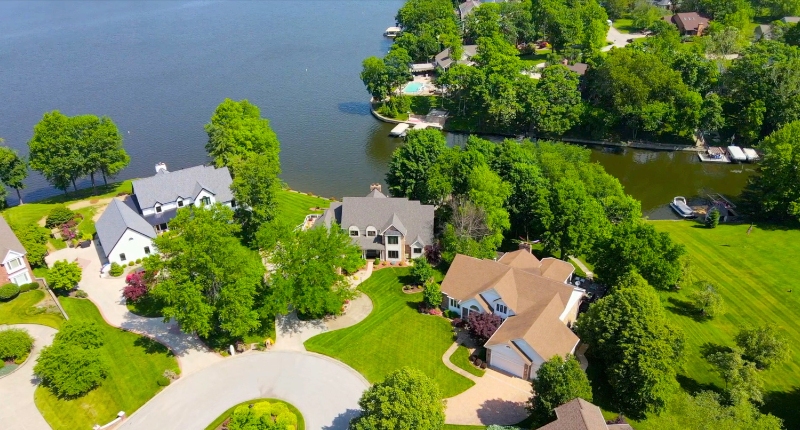 Waterfront homes in Lake St. Louis are especially sought-after. They can be difficult to find on the open market. Most of the waterfront transactions we've guided were done privately, off-market.
It can be challenging and quite competitive if you're in the market to buy a waterfront in Lake St. Louis.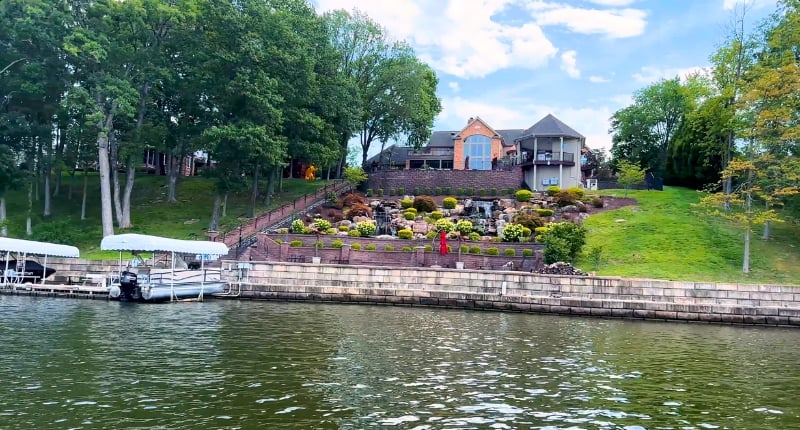 The waterfront estates were built to appreciate the lake. Many have big windows and some are atriums, so you can see the lake perfectly from every room.
Many homes sell off-market in Lake St. Louis
Homes with lake rights are extremely sought-after. Waterfront homes are even more competitive.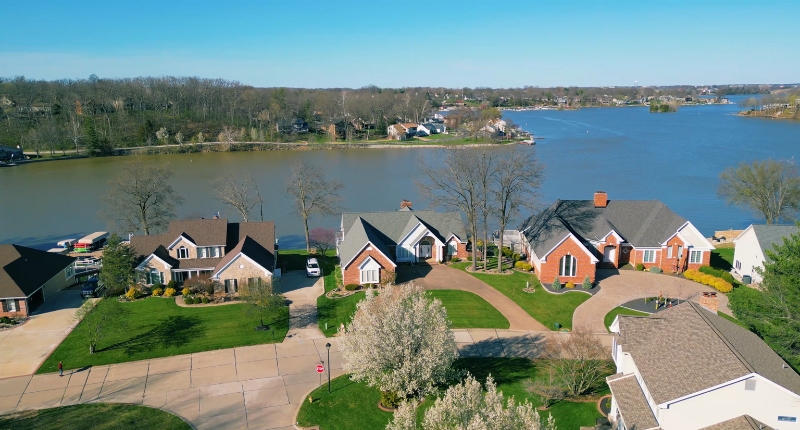 So many people are interested in living in Lake St. Louis, and it can be tough to get into the market.
Many waterfront homes in LSL are selling off-market in Lake St. Louis, meaning you won't see them listed on Zillow.
Why does that happen? Because Lake St. Louis is very close-knit. Everyone knows everyone, and word quickly spreads at the clubhouse anytime someone is thinking about selling.
All the off-market sales we've done in LSL were from our network of friends, clients, and other real estate agents we work with.
The social scene is a big deal in LSL, so word travels quickly when a home sold privately, or when another might become available.
Please reach out to us if you're in the market for a home in the CA, we have options! It's always good to see what else is available other than what's on Zillow.
Restrictions in Lake St. Louis
The tricky thing about living in the CA is the more stringent covenants and restrictions.
One of the big ones to know about is that you can't have a fenced or walled yard. There's a small exception for pet runs and pools.
You can have a fence for a pet run up covering up to 200 square feet. Pool fencing can only be around the immediate pool area.
You're also only allowed two dogs or cats per household.
Lease restrictions in Lake St. Louis
If you're looking to rent in Lake St. Louis, you can have lake rights if your landlord gives them to you.
Another thing to know about renting here is that short-term rentals are not allowed unfortunately.
Moving to Lake St. Louis
If you're curious to learn more about Lake St. Louis, or you're moving to the area, get in touch with us!
We'd love to share our knowledge of LSL with you and help with the buying or selling process.
Meeting new clients moving to the area is our favorite part of working in real estate! 🙂