So You Want to Live on the Water in Lake St. Louis?
A waterfront home in Lake St. Louis is one of the most sought-after homes in all of St. Louis.
Waterfront homes offer the absolute best of Lake St. Louis:
The best views of the lake
The ability to have a dock in your yard
Direct access to the water
A lifestyle that feels like vacation
Buying a Waterfront Home in Lake St. Louis Is Tricky
Whether you're looking at owning a waterfront on the big lake or the small lake, it can be a tough market to break into. A lot of waterfronts in Lake St. Louis sell off-market, which doesn't make things easy if you're new to Lake St. Louis.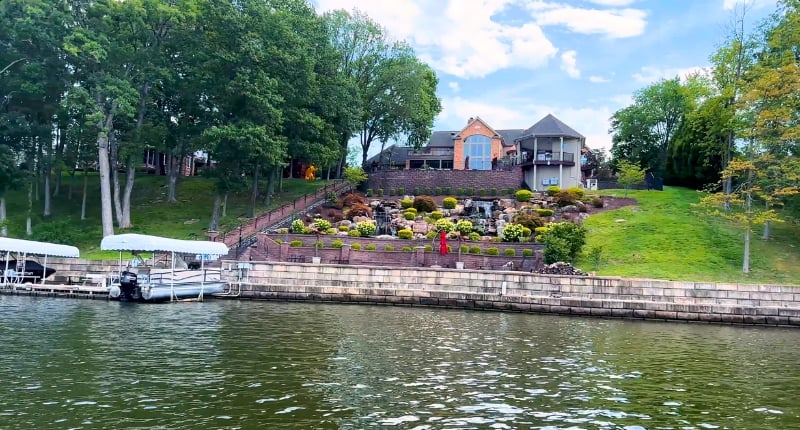 Here are a few important things to know about the market for waterfront homes in Lake St. Louis:
1. Limited supply
Most buildable waterfront lots in Lake St. Louis have been developed. The supply of waterfront homes is not going to increase because there simply aren't lots left to build on.
2. Demand is higher than ever
Supply isn't going anywhere, but demand has increased dramatically. Lake St. Louis used to be a hidden gem in St. Charles County, but these days, many people in St. Louis want to live on the lake without driving to Lake of the Ozarks.
3. Amenities unique to waterfront homes
You don't have to live on the water to have amenities included in the Lake St. Louis Community Association. But only waterfront homes have the ability to have a dock in the backyard with direct access to the water. Docks in LSL cannot exceed 30% of the shoreline.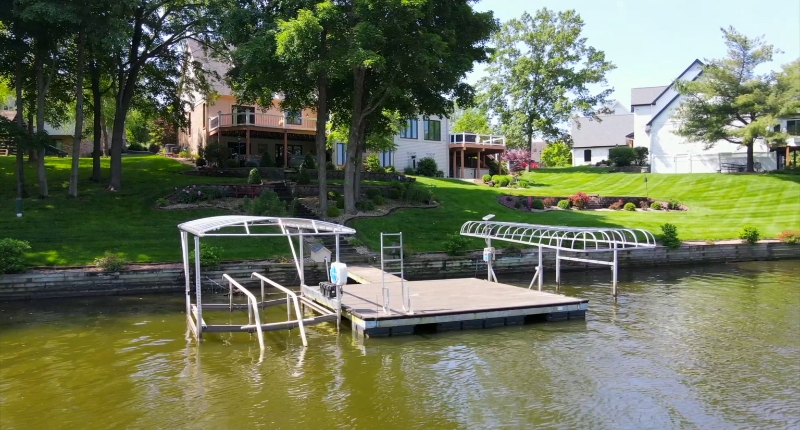 How to get a dock if you don't live on the water
If you have a boat in Lake St. Louis but don't live on the water, don't worry. You can join the waitlist for a spot at one of the marinas in Lake St. Louis. But you should be aware there can be a substantial wait time for those who are already on the list.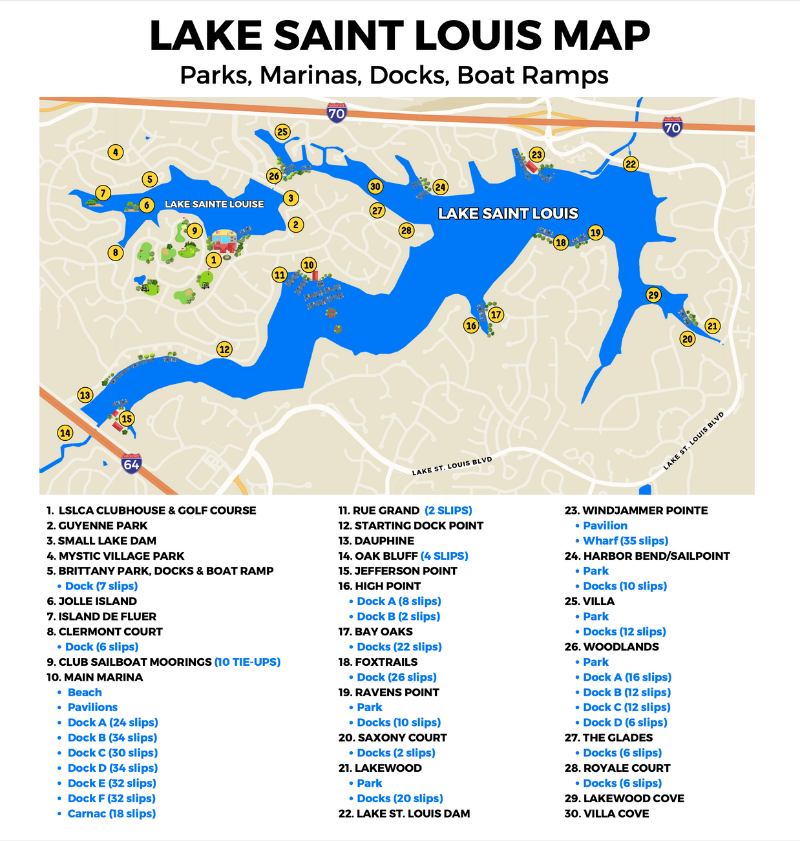 The marinas in Lake St. Louis are owned by the LSLCA and are reserved for those who live within CA boundaries.
Many Waterfronts in Lake St. Louis Sell Off-Market
If you're looking for a home on the water in Lake St. Louis, you'll see options for sale on Zillow and other sites online.
But here's the thing: there's usually just as many, if not more options available off-market in Lake St. Louis.
The listings online are just a fraction of the inventory of homes for sale on the lake.
Why Waterfront Sales Happen Privately
St. Louis as a whole is a very well-connected town. Everyone knows everyone.
This is especially true in Lake St. Louis. It's a small, close-knit community, where everyone hangs out together at the clubhouse and has friends and family in common.
The moment someone mentions they are thinking of selling, their friends know someone looking to buy. Maybe it's a friend or family member looking to move into the CA to have lake rights. Or maybe it's someone already in Lake St. Louis who wants to be closer to the water.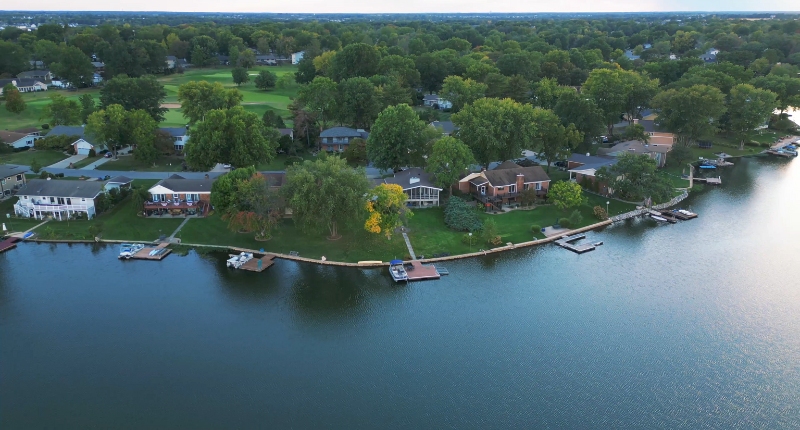 We notice this frequently when we talk to other real estate agents in our network who do a lot of business in Lake St. Louis. Of the homes we've sold in Lake St. Louis, we've sold more of them off market than we have listed them publicly. This is especially true of the waterfronts homes in Lake St. Louis that we've sold.
A lot happens off-market, and waterfront homes get the most attention.
Buying and Selling Off-Market in Lake St. Louis
We've facilitated many off-market transactions in Lake St. Louis, both for buyers and sellers. Here are some things you'll want to know that make off-market sales different from buying or listing a house publicly.
1. More Privacy
Whether you're selling a house and don't want to expose it to the whole internet, or you're buying a house and don't want your friends and family to look it up online, privacy is often a big reason people sell off-market.
2. More Flexible transaction
When we sell homes off-market, it's usually a more straightforward process than selling publicly. The terms of the contract are usually more negotiable off-market:
Inspections
Closing date
Inclusions
Exclusions
Seller concessions
Sometimes we sell one of our listings to our own buyers, so there is only one real estate company involved, which makes communication faster.
If we sell a home off-market and there's another agent (either listing agent or buyer's agent) it's usually someone we know fairly well, and it can still be a smoother process for both parties when both agents have worked together before.
3. Reduced exposure and competition
Fewer people are involved in an off-market transaction. A big reason for this is that there are only 2 parties involved: buyers and sellers. There is no competition and no bidding against other buyers.
If you're a seller, you won't have as much exposure as you would if you choose to list publicly. Sometimes that's a good thing if you want flexible terms. Sometimes it's a bad thing if you simply want the highest price from whomever is willing to pay it.
If you're a buyer, the biggest benefit of buying a waterfront off-market is that there's usually very little competition.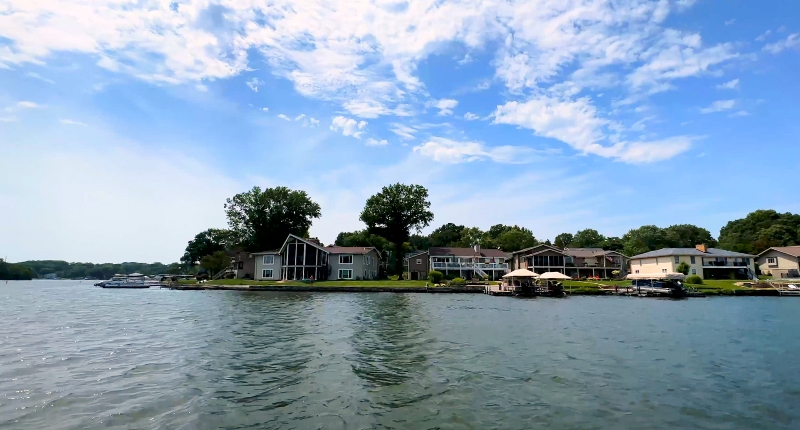 Living on the Water in Lake St. Louis
The waterfront homes of Lake St. Louis are a blend of natural beauty, recreation, and community living. With the amenities available through the LSLCA, you'll enjoy a lifestyle that's hard to find elsewhere.
The off-market inventory of homes is growing, and it goes to show the increased demand for living in Lake St. Louis.
Whether you're a potential buyer or a homeowner considering selling, if you'd like help navigating the process please get in touch with us. Lake St. Louis is one of our favorite communities around St. Louis and we usually have a decent number of off-market options if you're looking at moving here.
We always love hearing from new clients, and serving the community is our favorite part of the job.