New Town, St. Charles: Redefining Suburban Living
New Town at St. Charles offers a lifestyle that is truly unique to all of St. Louis.
It's not just a neighborhood; it's a place where live, work, and play seamlessly blend. It is a vibrant community that differs from what you're used to when it comes to suburban living.
Nestled North of the banks of the Missouri River, New Town in St. Charles, stands as a testament to the innovative vision of Greg Whittaker.
Greg Whittaker, the developer of New Town, sought to replicate all the things he loved about Seaside, Florida. New Town is like a little slice of coastal living right here in St. Charles County.
In this article, we'll explore the fascinating world of New Town, its remarkable amenities, and why it stands out as a one-of-a-kind community just outside St. Louis.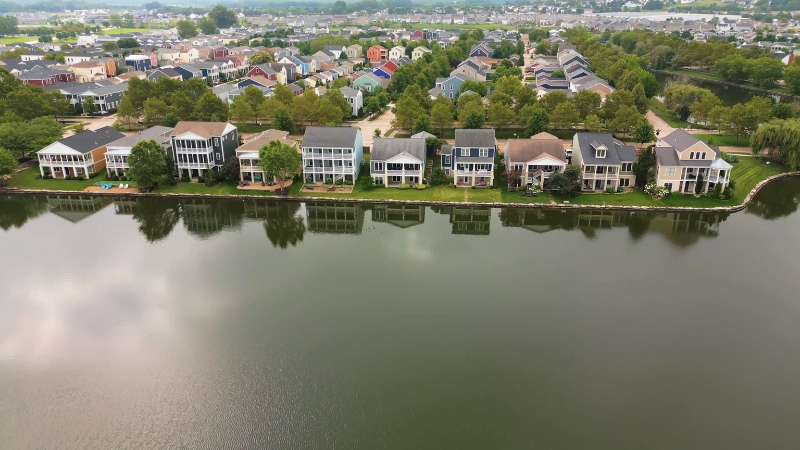 New Town is Different from Other St. Louis Suburbs
New Town is a very special community, and it feels radically different from surrounding neighborhoods in St. Charles County.
Here are a few things that make New Town special:
1. Walkability
New Town was designed with a strong focus on walkability. Sidewalks are wide and well-maintained, and the town's layout encourages residents to take leisurely strolls, bike rides, and walk into the Town Square.
This kind of walkability is hard to find outside the city of St. Louis, and you won't see many of these walkable communities in St. Charles County because it tends to be more spread out.
2. Coastal Architecture
You won't see many communities around St. Louis that have the same look as New Town. It has a very coastal style, bright colors, and a feeling that reminds you of living somewhere near a beach.
3. Strong Sense of Community
New Town has a very strong and close-knit community. Some people like it, and others realize it's not for them. Everyone knows everyone, neighbors are all friends with each other, and people tend to know what's going on in the lives of everyone in the community.
If you like that type of connection, you'll love New Town. If you tend to prefer privacy and a little less nosiness from your neighbors, you might not be a fan of New Town.
A Brief History of New Town
New Town at St. Charles was created by Whittaker, a St. Louis-based real estate development company led by Greg Whittaker. Whittaker is known for its commitment to creating exceptional communities.
In the late 1990s, when the idea for New Town was born, they aimed to redefine suburban living.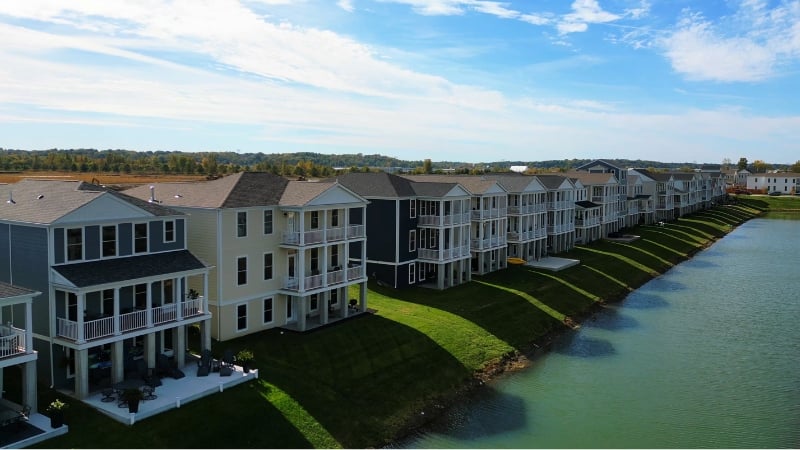 The concept behind New Town is new urbanism and sustainable development.
Traditional neighborhoods, walkable streets, and a sense of belonging were at the heart of this vision.
The developers brought the plan to life by transforming more than 700 acres of former farmland into a picturesque town that looks like its straight out of a movie. The result is a charming blend of old-world aesthetics with modern amenities. This unique design truly sets New Town apart from other master-planned communities around St. Louis.
Whittaker recognized that achieving a well-rounded and inclusive blend of housing types was crucial in the pursuit of excellent urban planning.
His vision aimed for the broadest array of building styles and designs to be incorporated into the development.
In New Town you'll find:
Single-family homes
Townhomes
Free-standing villas
Apartments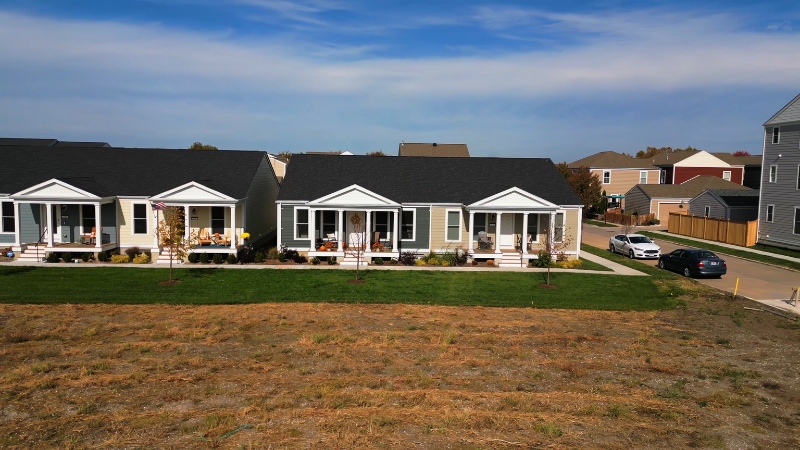 Part of this plan for sustainability included ensuring that the soil used to create the lakes and canals was then used to raise the land. An onsite farm in New Town was created to cultivate trees. The trees were then transplanted into each new phase of New Town.
New Town General Assembly
New Town is governed by the general assembly which is essentially the HOA for the community.
The GA establishes and enforces the rules & covenants of New Town. They also provide all the information you'll need when you live in New Town like:
Mailbox keys
Trash pickup
Common ground maintenance
Snow removal
Fees & HOA dues
New Town Trust
While the board of directors on the general assembly manage the community, the New Town Trust is what funds events and activities.
The Trust is not governed by the GA. They each have a different Board of Directors. The trust acts as a 503(c) non-for-profit organization.
The New Town Trust provides the funding for all entertainment in the community like:
Concerts
Music festivals
Movie nights in the park
4th of July celebration
It's important to note that HOA dues do not fund the trust. Instead, the New Town Trust is funded by the tax allocation district (TAD) and home re-sale fees.
Home Re-Sale Fees in New Town
One thing unique to New Town compared to other areas of St. Louis is the re-sale fee. This fee goes directly to the New Town Fund.
Every time a home sells in New Town, there is a 0.2% fee of the sale price. The seller typically pays this fee, unless otherwise agreed upon.
For example, if you own a home in New Town that sells for $400,000 the re-sale fee is $800 at closing.
The fee is the same whether it's a single-family home, villa, or townhome.
This resale fee does not apply to new construction homes. 
New Town's Unique Design
New Town is made up of 6 walkable, mixed-use neighborhoods surrounded by lakes and waterways. These neighborhoods are about 1.5 miles wide and full of homes and mixed-use commercial space.
Phase 1 on the map below is the town center.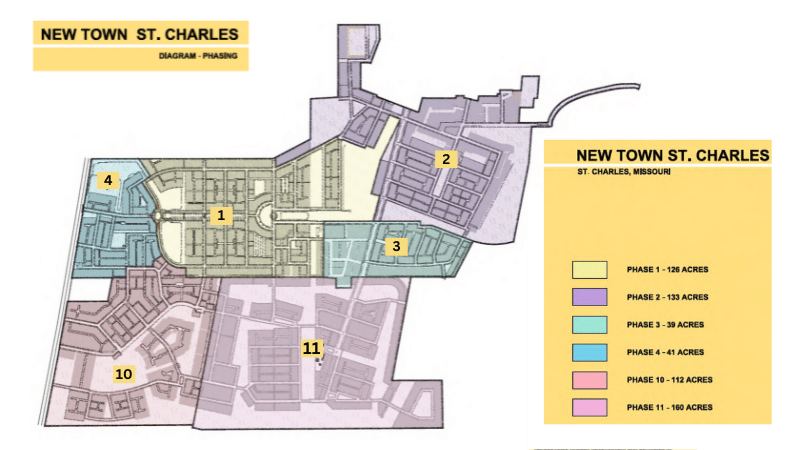 The Town Square is kind of like an island centered in the middle of the community, surrounded by waterways.
Phase 11 is the newest part of New Town which is currently under construction with dozens of new homes being built.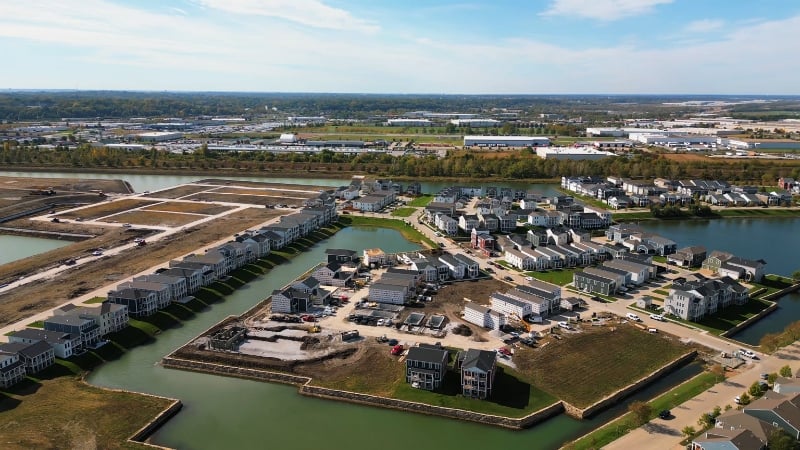 Waterways in New Town
Another feature of New Town's planning is the use of canals throughout. The whole community is connected by a network of waterways, which you can explore via kayak and paddle boat.
Originally, the lakes and waterways were intended to capture storm runoff, but they became a strong part of New Town's design that makes it easy to identify.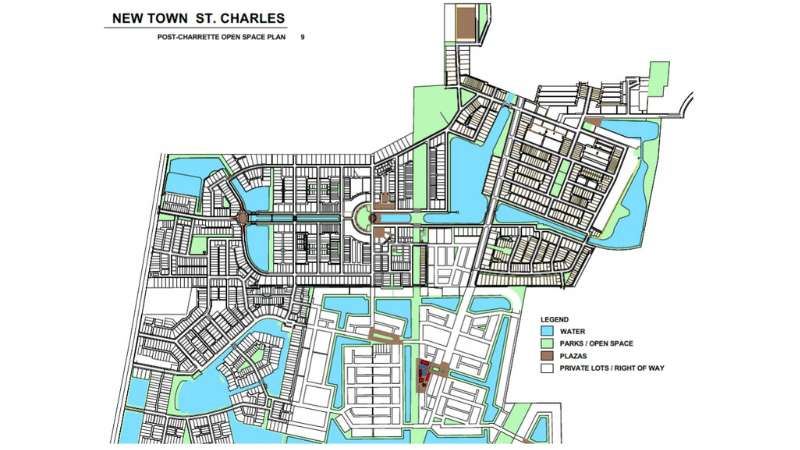 Many of the main streets in New Town run next to the canals, and you'll see a bunch of waterfront homes that look out over the lakes.
New Town also has a gorgeous beach.
Water plays a significant role in New Town's charm, with three well-stocked lakes suitable for fishing, swimming, canoeing, and kayaking.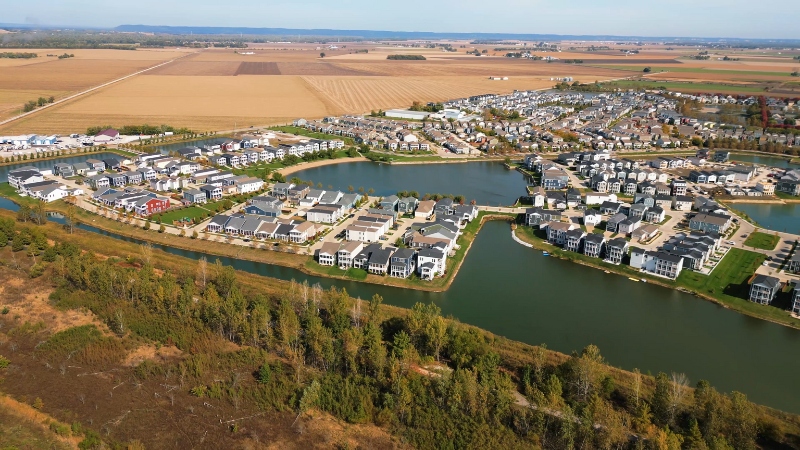 These waterways aren't just for aesthetic, they're also pretty fun to paddle around on when the weather's nice.
New Town Amenities You'll Love
At New Town, residents have an array of amenities that foster a sense of community, leisure, and well-being.
These amenities are thoughtfully designed to encourage socializing and a close connection among neighbors.
If you spend some time in New Town, you'll see how connected the community is. Neighbors are all friends, kids play together at the parks, and it feels like everyone knows each other.
Let's explore some of the unique features that make New Town a unique suburban paradise.
Town Square
New Town's Town Square is the central gathering place.
You get to enjoy a vibrant social scene, do some shopping, and grab some coffee or wine if you'd like.
It features a bandstand for live music, a farmer's market, and a wide range of events and festivities throughout the year. The Town Square is the hub of activity, and it embodies everything New Town stands for: community and new urban living.
There's also plenty of event space in New Town for festivals, weddings, and neighborhood get-togethers.
Shops and Food
New Town's Town Square offers a range of food and shopping options.
Whether you're in the mood for a coffee, a delicious meal, or some retail therapy, you don't have to venture far from your front door.
The Bridge Coffee House, Rookies Bar and Grill, Domain Street Wine Bar, and Bonnidell's Ice Cream Shop are all great options for food and treats when hunger strikes.
These local venues contribute to the lively atmosphere and give New Town a cozy small town feel.
Community Pools
New Town has not one, but two community pools: the Shire Lane Pool Club and Blue Agave.
Shire Lane Pool Club at New Town
Shire Lane Pool Club has:
A 700-foot winding lazy river
Junior Olympic lap pool
Leisure pool
Kid's splash pad
The lazy river at Shire Lane is an oasis with a meandering river-like design, complete with palm trees and comfortable lounging areas.
The Blue Agave at New Town
It's by far the best spot to hang out on a hot summer day.
Blue Agave is the other pool located in the center of New Town. Blue Agave is smaller and more private with its stucco walls.
It's better known for its event space, gazebo, and sunbathing chairs for summer chill days.
These pools serve as social hubs during the summer. At New Town, you can beat the heat and mingle with your friends and neighbors at the pool.
Pickle Ball and Sand Volleyball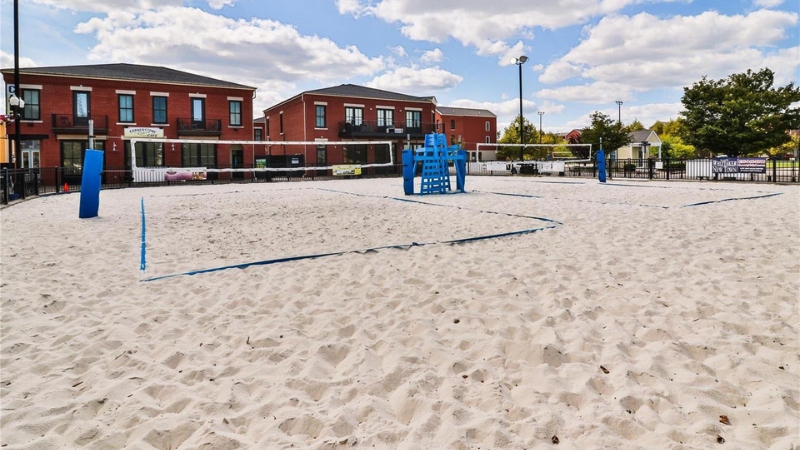 The rise of pickleball as a popular sport among all age groups has not been lost on New Town.
The community offers 15 dedicated pickleball courts through New Town Pickleball, which is the newest outdoor pickleball-only facility in St. Charles. These courts are perfect for both beginners and enthusiasts. You'll be able to play friendly matches or competitive tournaments, which is just another part of New Town that brings residents together.
In the heart of New Town, you'll find the best sand volleyball courts in St. Charles County.
The facility boasts top-notch Florida white sand divided into two main courts, with an additional third court for your convenience.
New Town Volleyball has a range of league options and is conveniently located near the bars and restaurants in the Town Square.
Parks and Playgrounds
New Town has several beautiful parks and playgrounds. The outdoor space is just one more thing to love about living in New Town.
Civic Green Park is one of three lovely parks here at New Town.
There is an amphitheater right next to the town square. Its where the community hosts a variety of events like concerts and movie nights throughout the year.
Great Public Schools in New Town
New Town falls within the Orchard Farm School District. Orchard Farm is a distinguished public school district and very well-known for its commitment to quality education.
With a focus on academic excellence, a dedicated teaching staff, and a supportive community, Orchard Farm does a great job preparing students for success.
The district's five schools offer a wide range of programs and resources, and the education quality is one of the best things our client's love about New Town.
Moving to New Town St. Charles, MO
New Town isn't your average St. Louis Suburb. It's a lifestyle choice that redefines suburban living.
We've had countless clients who have moved here from other parts of St. Louis and across the country who love it and felt right at home.
If you'd like help with the process of buying or selling a home in New Town, please reach out to us and we'd love to get to know you better.
New Town's commitment to new urbanism, sustainability, and fostering a sense of belonging sets it apart from traditional suburbs. With its thoughtful amenities, commitment to walkability, and dedication to social engagement, New Town is a place where you won't just find a home, you'll find a community and belonging.