With its golf cart-friendly streets, enchanting Old Town district, and exciting new construction projects, Cottleville offers a unique blend of modern living and small town charm.
In this article, we'll dive into what it's like living in Cottleville and why it's a great location for those considering a move to the area.
When it comes to finding the perfect place to call home in St. Louis, there are countless factors to consider. You want a community that offers not only comfortable living but also a vibrant atmosphere, recreational opportunities, and a dash of charm. If you're currently on the hunt for your next home, you might just find what you're looking for in Cottleville, Missouri.
Cottleville, Missouri: A Hidden Gem in St. Charles County
Cottleville is a picturesque town located in St. Charles County, Missouri. It is absolutely a hidden gem here. Though it's a small town, Cottleville has a unique style and local charm that set it apart from the bigger suburbs next to it.
According to U.S. Census data, the city of Cottleville is the fastest growing of any community in the county and is considered to be one of the fastest growing cities in Missouri. Cottleville is one of the cities that has benefited the most from all the growth in St. Charles County recently.
Cottleville is one of the oldest towns in St. Charles County.
Its origins can be traced back to the early 1800s when a cluster of houses appeared near the intersection of the old Boone's Lick Road and the Dardenne Creek. The town's roots are tied to Captain Warren G. Cottle, who secured a land grant from the Spanish in 1798.
Today, Cottleville covers an area of about 4.5 square miles and is home to over 5,600 residents.
Golf Carts in Cottleville
One of the standout features of Cottleville is its status as a golf cart community.
Residents can use golf carts to get around town, giving Cottleville a distinctive, relaxed vibe. Whether you're running errands, heading to a restaurant in Old Town, or just enjoying a leisurely ride, golf carts are a popular and eco-friendly way to get around Cottleville.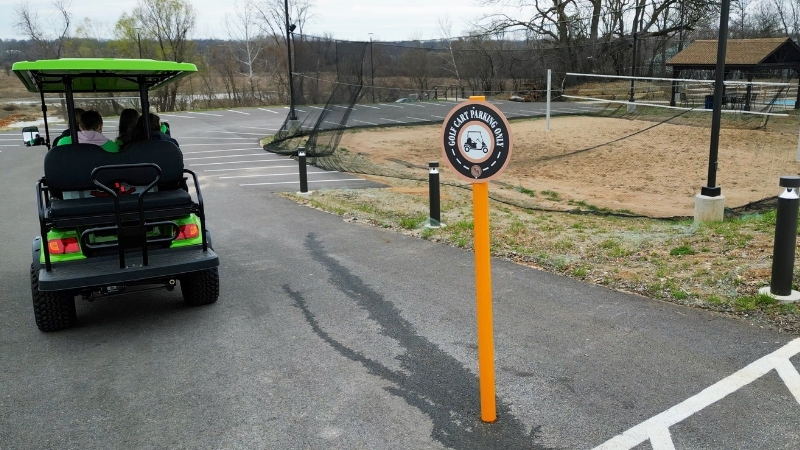 If you drive into Old Town, you'll notice some small parking spots which are meant for golf carts.
There's a whole golf cart parking lot next to the sand volleyball courts behind Frankie Martin's Garden.
It's one of the many draws to Cottleville, and it's a fun thing that our clients love when they end up moving here.
Imagine cruising down tree-lined streets, waving to your neighbors, and soaking in the scenery without the noise and hustle of traditional traffic. It's a lifestyle that fosters a strong sense of community and a connection to the town's beautiful surroundings.
Old Town Cottleville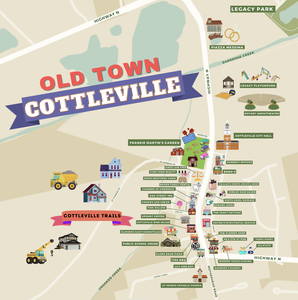 Old Town Cottleville is the heart and soul of this charming community. The Old Town District exudes historic charm with its well-preserved buildings and quaint streets.
Here, you'll find a variety of local shops, boutiques, and restaurants, each with its own unique character.
Stroll along the streets and explore the variety of specialty shops and boutiques that Old Town has to offer. Whether you're searching for antiques, handmade crafts, or the perfect gift, you're sure to find something special in these charming stores.
Old Town Cottleville comes alive with various community events throughout the year. From farmers' markets to holiday festivals, there's always something happening in this lively part of town.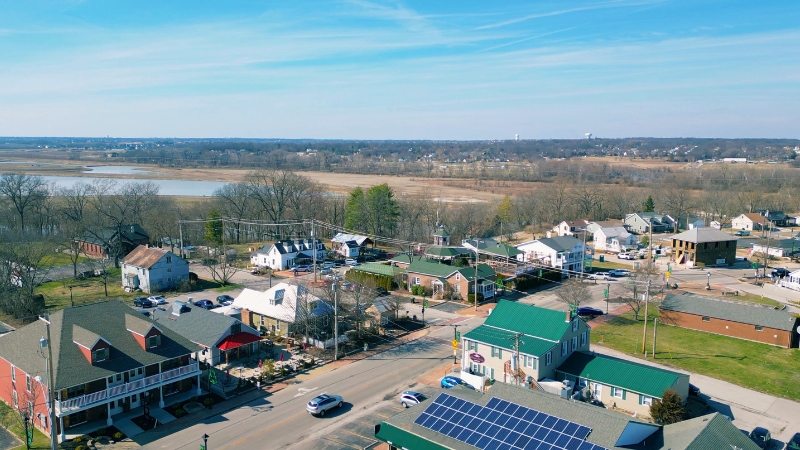 If you're a foodie, you will love the offerings of Old Town Cottleville. From cozy cafes like Upshot Coffee to fine dining restaurants, the area boasts a diverse range of eateries.
Be sure to try some of the local favorites, and don't forget to grab a sweet treat from Cookies and Cream for dessert.
Whether you're exploring Old Town's historic streets or enjoying a meal at one of its cozy restaurants, you'll find that Old Town is the heartbeat of Cottleville.
St. Patrick's Day Parade in Cottleville
Cottleville is known for its St. Patrick's day parade. Every year, the streets of Old Town are decorated in green and the whole day is an outdoor celebration for St. Patty's day.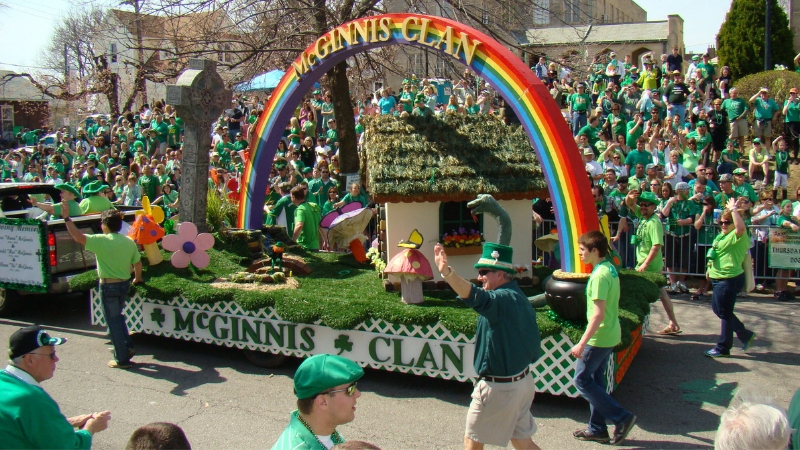 Local businesses have tables in the streets, offering food, drinks, and free merch.
It's a great event for kids, and adults too. Whether you're sticking to water or trying a boozy St. Patty's day themed cocktail, you'll have a blast at the parade.
Neighborhoods to Live in Cottleville
Cottleville has some top-notch neighborhoods featuring single-family homes, villas, and townhomes.
You'll find neighborhoods like Timberwood Trails on the older side, and a neighborhood like Winterbrooke Estates very new, built within the last 5 years.
Most neighborhoods in Cottleville stem off Highway N which is the main strip that connects to Old Town Cottleville. Highway N will take you east to Mid Rivers Mall Drive and west to Highway K, which is the main artery running North-South through O'Fallon.
Some neighborhoods in Cottleville are even close enough to walk right into Old Town. And since Cottleville is a golf cart community, many people drive golf carts into town for coffee or dinner.
Here are some of the best neighborhoods in Cottleville based on neighborhood size and home values:
Cottleville Estates
Brittany Place
Winterbrooke Estates
Vantage Pointe
Windsor Place
The Manors at Oakwood
Colonial Green
Miralago Estates
Timberwood Trails
In addition to these neighborhoods, Cottleville has two brand new developments if you're interested in new construction: Cottleville Trails and Prairie Bluffs.
Cottleville's Largest New Neighborhood: Cottleville Trails
Cottleville Trails is the largest new development happening with over 350 homes. One of the best parts of Cottleville Trails is its location right next to Old Town Cottleville. In fact, you can ride a golf cart right into Old Town Cottleville from any of the homes at Cottleville Trails.
It's located to the south of Highway N and east of Highway K. Cottleville Trails is set to provide a variety of housing options, including ranch-style, 1.5-story, and 2-story single-family homes, as well as freestanding villas.
The four builders here are Fischer & Frichtel, Lombardo, McKelvey, and Consort.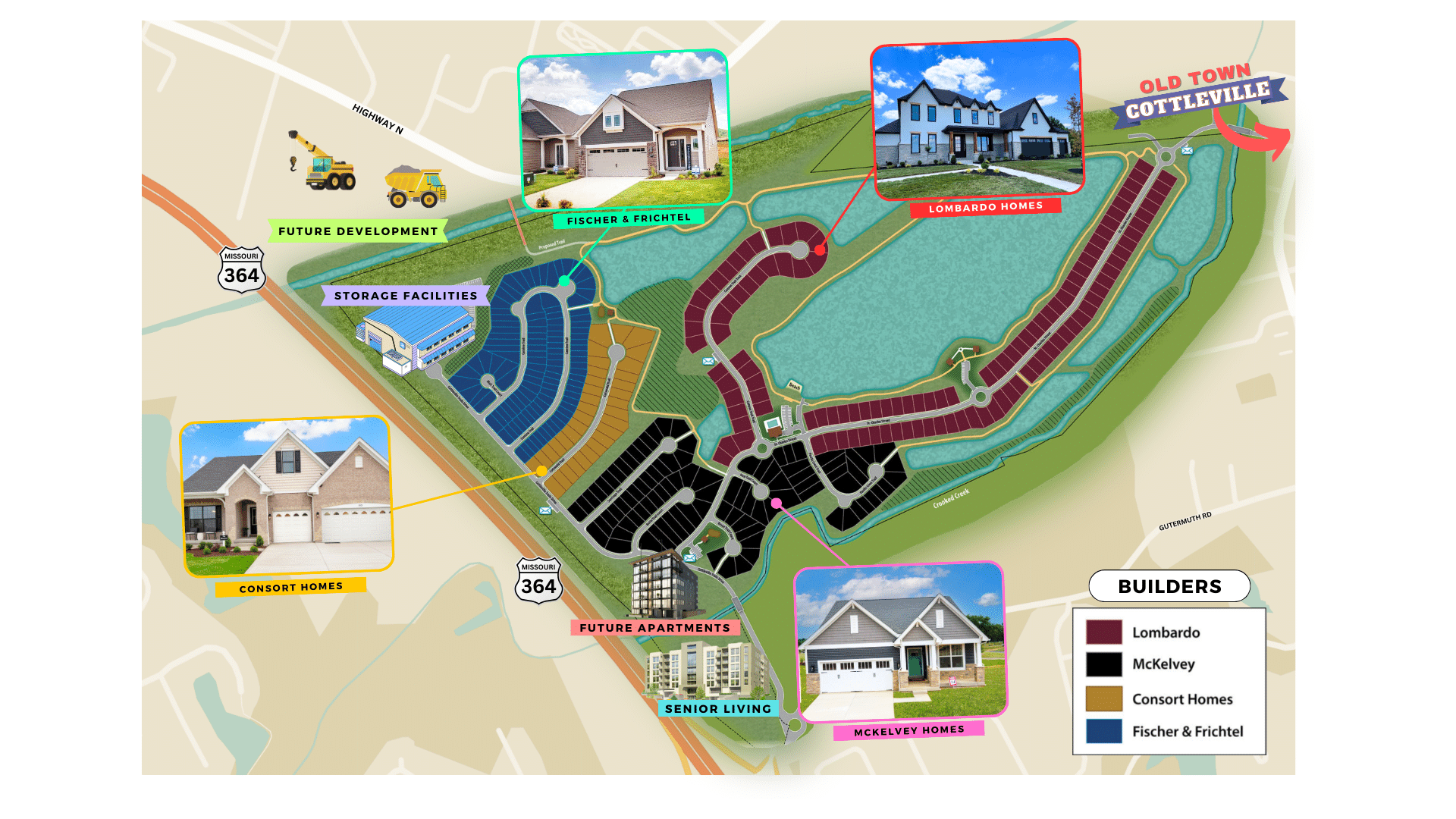 This thoughtfully designed community is committed to creating a vibrant and inviting atmosphere with some of the best amenities:
5 scenic lakes
Community beach
Meandering walking trails
Community pool with pool house
Community pavilion with a fire pit
Several play areas for kids
We've had a lot of clients reach out to us inquiring about building with one of these 4 builders. For now, there's plenty of availability, so reach out to us if you're interested in new construction in Cottleville.
Prairie Bluffs: Contemporary Living in a Picturesque Setting
Prairie Bluffs is another development that combines the beauty of the outdoors with modern living. This new neighborhood is being built by Fischer & Frichtel and Consort Homes.
Located near Old Town Cottleville, Prairie Bluffs offers a tranquil and family-friendly environment. The community features thoughtfully designed homes with contemporary amenities and architectural styles that blend seamlessly with the natural surroundings.
Living in Prairie Bluffs means waking up to gorgeous nature views, taking leisurely walks by the lake, and enjoying the serenity of suburban life.
The new construction projects in this area are a testament to Cottleville's commitment to providing residents with the best of both worlds.
Schools in Cottleville
Cottleville is home to one of the top 15 school districts in Missouri.
The public school options for students in Cottleville are:
Francis Howell Central High School
Louis C. Saeger Middle School
Warren Elementary School
St. Joseph Catholic School, a private school option, provides classes for students in kindergarten through eighth grade. For college students or adults interested in continuing their education, St. Charles Community College is located nearby.
Cottleville will give you access to one of the best high schools in St. Charles County, and that's just one of the many draws to this part of St. Louis.
Parks and Rec in Cottleville
Cottleville is perfect if you want an active lifestyle.
It has 210 acres of parks and 38.5 acres of serene lakes.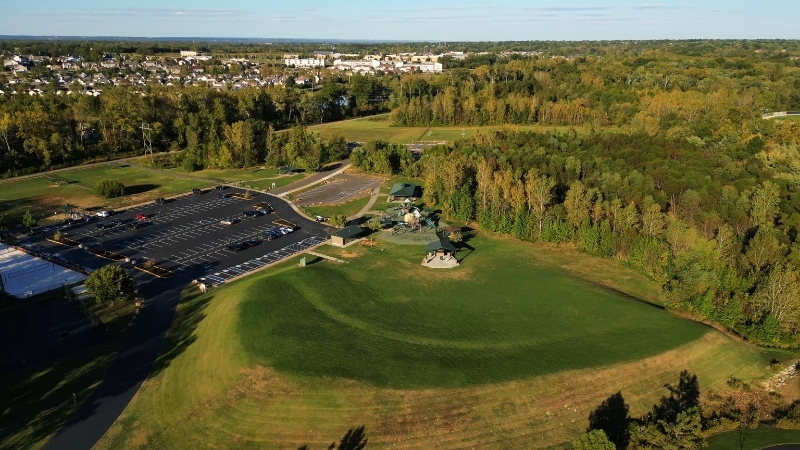 Legacy Park is located on Fifth Street near City Hall on Hwy N and offers:
Basketball
Tennis
Sand volleyball
Walking trails
Lakes
Dog park
Legacy Park also connects to the Dardenne Greenway which meanders alongside Dardenne Creek in St. Charles County, connecting numerous acres of parks, neighborhoods, communities, businesses, and schools.
Within this greenway, a paved trail offers a convenient option for leaving your vehicle behind, allowing you to walk or bike to athletic fields, a dog park, St. Charles Community College, or simply step outdoors and breathe in the fresh air.
Another great option for kids of all abilities is Hansen Park, the home of McCauley's Playground.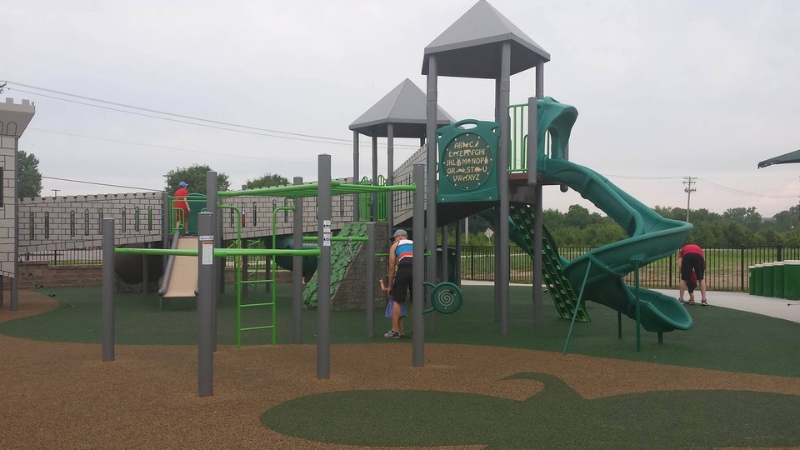 This inclusive play area just behind Mercy Kids Mid Rivers pediatric care facility on Ohmes Road is designed to remove physical and social barriers so children with and without disabilities can play side by side.
Scott A. Lewis Park has a 25-acre lake where non-motorized watercraft can be launched. The Scott A. Lewis Park can be found in the back of Miralago Subdivision off Mid Rivers Mall Drive. If you are near the St. Charles Community College campus, check out College Meadows Park which has one of only three 8-hole disc golf courses in the region.
In addition to the parks, lakes, and greenways, Cottleville residents with a green thumb have access to a community garden. Located near Vantage Lake, gardeners can plant a variety of veggies to satisfy any cravings. This garden space is free and reservations open March 1st of every year.
If the weather is not cooperating and you need to get your cardio in, you will soon be able to join Fit City, a state-of-the-art fitness center with the latest and greatest strength and cardio experience in the former OfficeMax space on Mid Rivers Mall Drive. Fit City plans to offer Cottleville clients the widest variety of equipment available in the Midwest.
Choosing Cottleville as Your New Home
If you're considering a move to Cottleville, MO, you're not just selecting a place to live; you're choosing a community. One that values history, embraces innovation, and offers a unique blend of modern comforts and small town charm.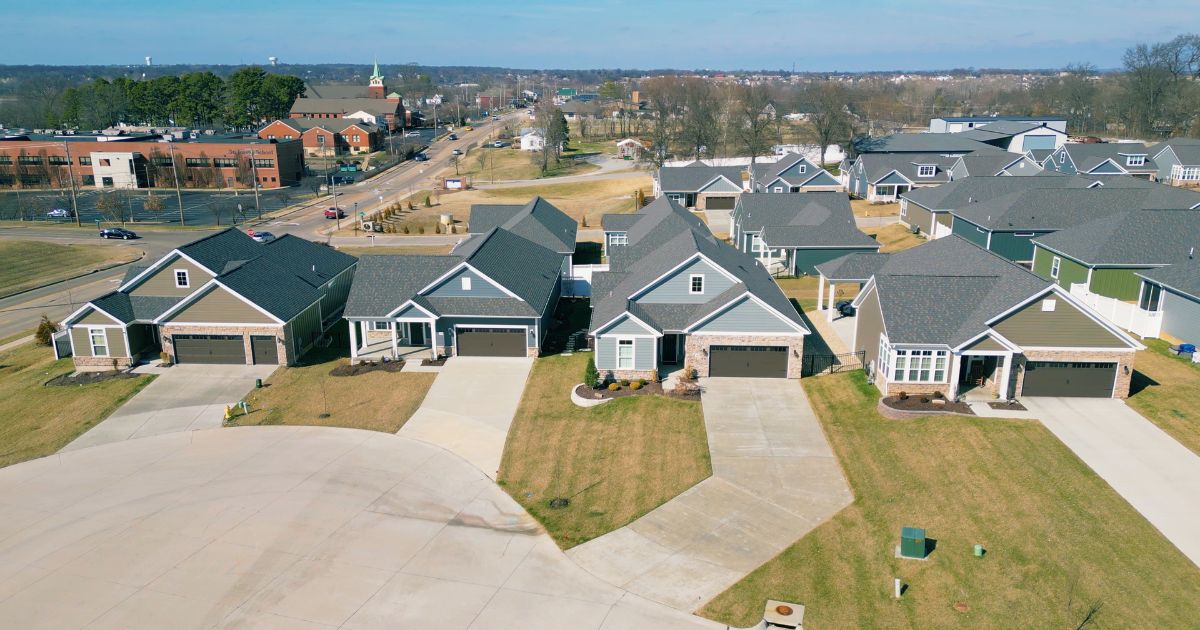 With its golf cart community, quaint Old Town district, and exciting new construction developments, Cottleville offers a great opportunity for those seeking a fun lifestyle in the heart of the Midwest.
If you're considering making Cottleville your new home, reach out to us to experience the magic of this hidden gem for yourself. Helping our clients move to Cottleville is always a pleasure, whether you're looking at new construction or buying an existing home, we are here to help.
Whether you're an outdoor enthusiast, a history buff, or simply looking for a welcoming community, Cottleville has something for you.