Cottleville is a beautiful town in St. Charles County that blends historic character with suburban living. Old Town is at the center of Cottleville's small-town charm where everything happens.
If you're looking to spend a day in Old Town, we put together a guide on everything there is to do.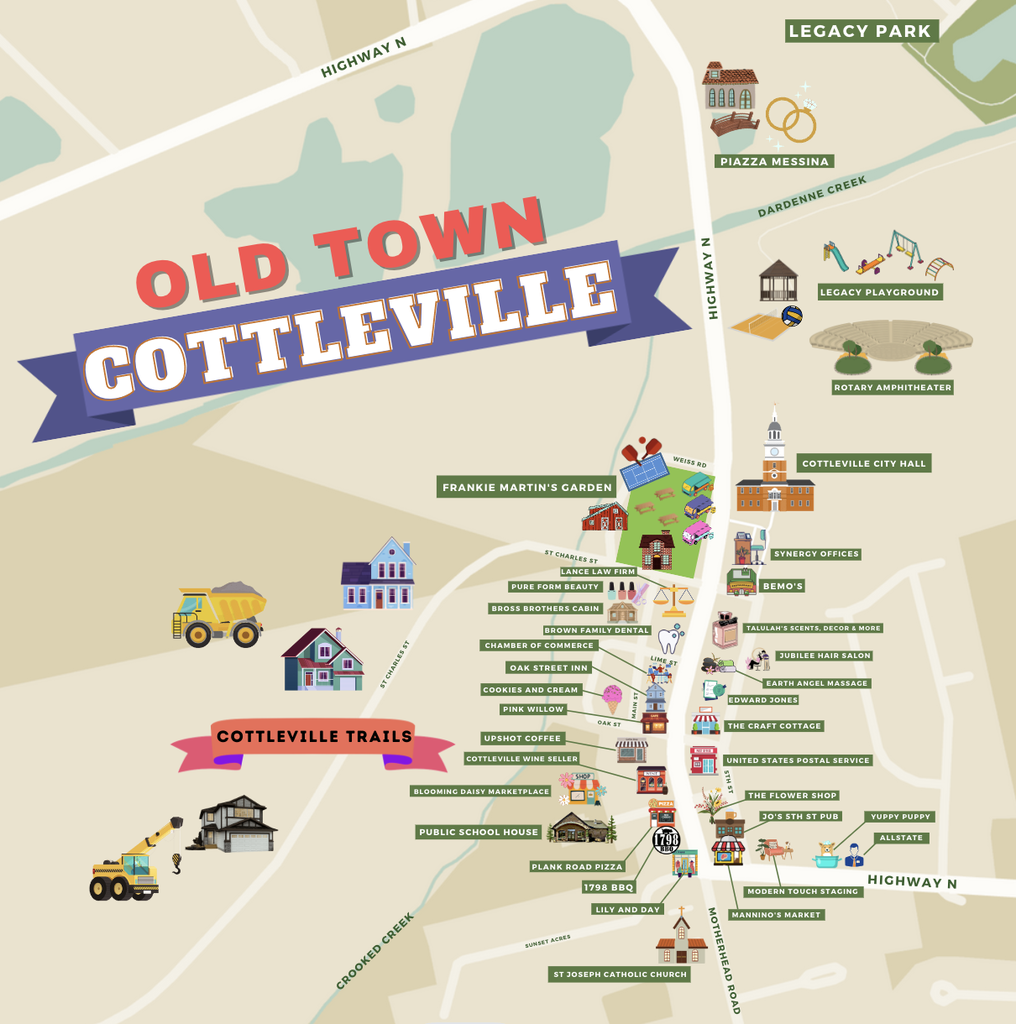 Old Town Cottleville
Walking down Route N, the center street of Old Town, you'll find a unique blend of quaint shops, historic buildings, boutiques, and restaurants.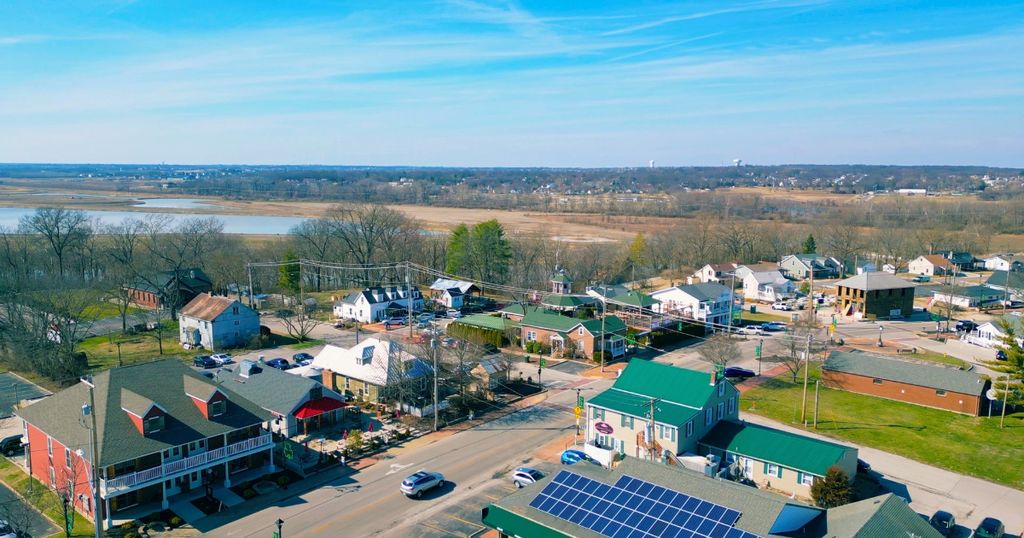 Old Town is basically the Downtown Cottleville.
The cool thing about Old Town Cottleville is that there's always something new going on. There are many long-time restaurants and shops that have been here, but they always have new events happening.
Local pop-ups, holiday festivities, and new businesses are always bringing something new to do in Cottleville!
Local Food
Frankie Martin's Garden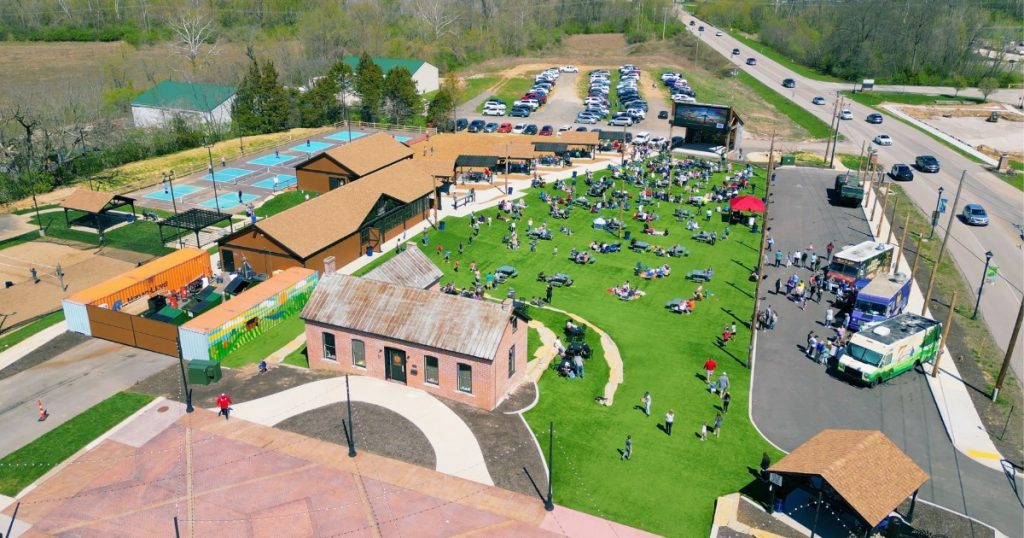 Frankie Martin's Garden is one of the newest spots to open in Old Town Cottleville. It's an outdoor hangout spot that has:
Local food trucks
An indoor whiskey house
Pickleball courts
Sand volleyball
Fire pits and pavillions
A 26-foot LED screen for movie nights
There's always something to do at Frankie Martin's Garden, and they're open 7 days a week.
It's one of the newest additions to Cottleville, and families are having a blast here!
The Garden is the outdoor space with picnic tables, pergolas, fire pits, and it's where everyone gathers to watch movies on the weekends.
The House is the indoor section. It was a historic house they converted into a hip whiskey and wine bar.
Upshot Coffee
If you're in Old Town Cottleville for the day, Upshot Coffee is where you'll want to go for an amazing cup of coffee. Or if you'd prefer tea or some fresh juice, they have that too!
They don't just stop at drinks. Upshot has some fantastic sandwiches and pastries too. Their cinnamon rolls are addictive.
Plank Road Pizza
If you're looking for Cottleville's best pizza, you'll find it at Plank Road Pizza! Their history in Old Town goes all the way back to 1851 with the first settlers in the area.
Enjoy delicious, hand-tossed pizza made with fresh, local ingredients in the heart of Old Town.
You've gotta try their chopped salad if you stop by!
1798 BBQ
If you're in the mood for some local slow-smoked barbecue, stop by 1798 BBQ right in the middle of Old Town Cottleville.
As the name suggests, this spot has been a local favorite since 1798 in Cottleville.
They've added to their menu over the years, but the ribs and cornbread are just as good today as they were over 220 years ago.
You can choose from a variety of meats and have it with 2 sides, or make it a sandwich or a combo with ribs.
If you're in the mood for something else, they have a bunch of fun burgers and tacos to choose from too.
Cookies and Cream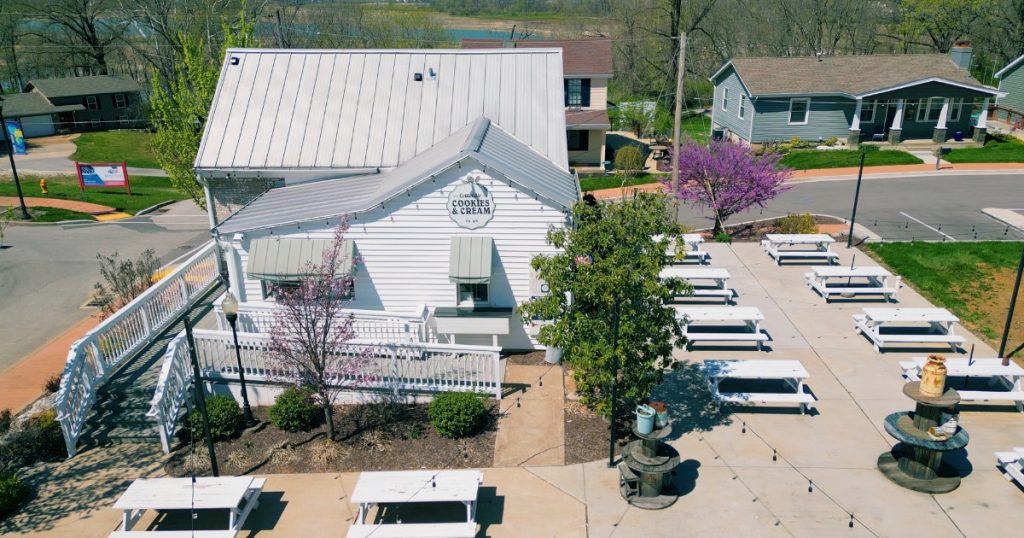 Cookies and Cream is everyone's go-to for ice cream and cookies in Cottleville. They're always adding new flavors.
And if you can't decide between cookies or ice cream, you can get both! Take any of their cookies and make it an ice cream cookie sandwich if you're really hungry for dessert.
Bemo's
Bemo's is one of the more traditional sit-down restaurants in Cottleville.
They're family-owned and operated, and it's a great spot to get dinner with the family or go out for a date night in Old Town Cottleville.
Their menu really has everything from steaks, salmon, pastas, and even tacos.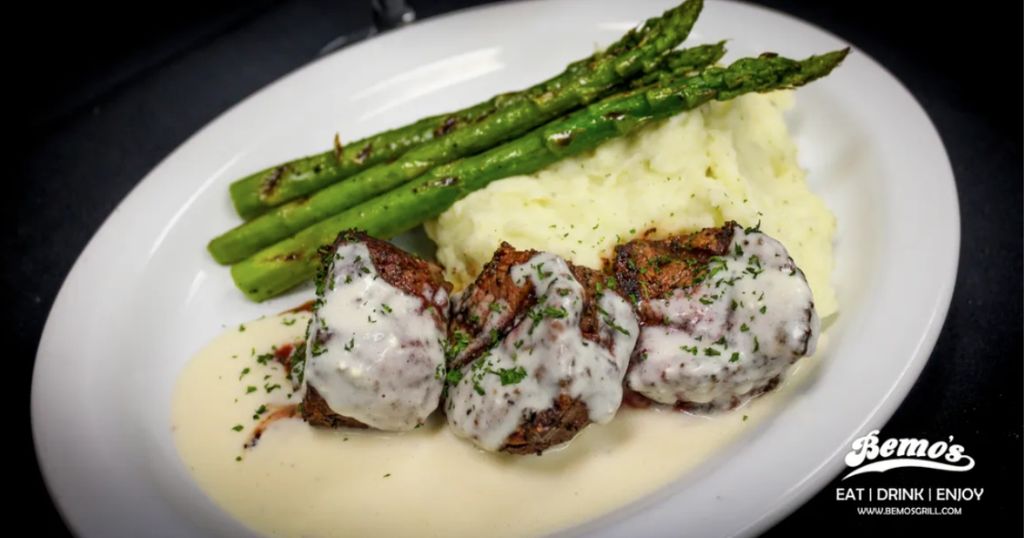 Bemos' seating options include the dining room, patio, bar, and banquet room.
They also have live music from Thursday through Sunday every week!
Cottleville Wine Seller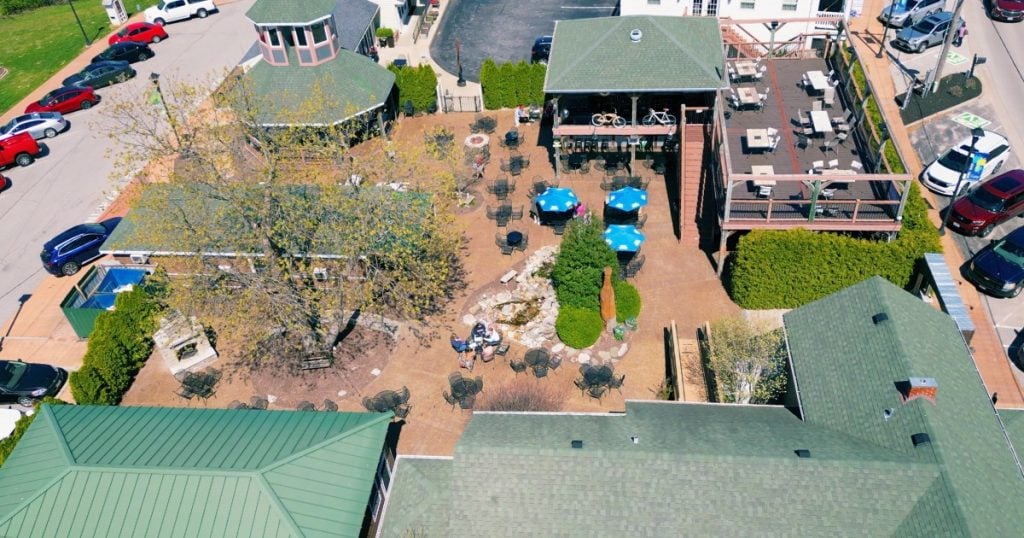 At Cottleville Wine Seller, you can sample local wines and enjoy a relaxing atmosphere.
This local entertainment hub has over 200 labels of wine from around the world to choose from.
They've got outdoor seating, fire pits, and an upper level deck where you can sit, chat, and taste great wine.
They also have live music. Who doesn't love that??
Mannino's Market
Mannino's market is Cottleville's favorite little market in the middle of town. They've got the best steaks, deli, cheese, and pies in all of Cottleville.
Are you preparing a family meal?
Bringing a dish to a friend's?
Looking for a pre-made meal to bring to work?
Mannino's has all of that. Stop by and say hi on your way through Old Town!
Jo's 5th Street Pub
Located in the basement of Mannino's, you'll find Jo's 5th St Pub!
This lively spot is where locals and visitors alike gather to kick back and have a blast.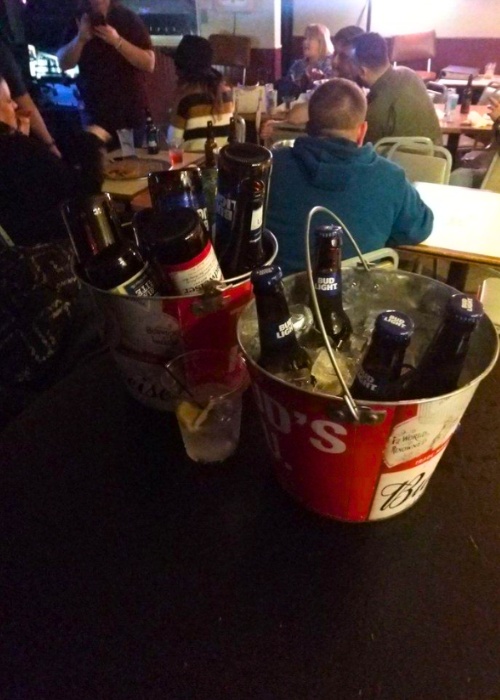 With its casual, inviting atmosphere, Jo's 5th Street Pub is the perfect place to catch up with friends, cheer on your favorite sports team, or just unwind after a long day with a beer.
And the best part? Their pub grub and wide selection of ice-cold drinks are sure to hit the spot every time. So, the next time you're in Cottleville, make sure to swing by Jo's 5th Street Pub, because you're in for a fantastic time!
Coming Soon – Pink Willow Café
There is exciting news from the Oak Street Renovation in Cottleville: the Pink Willow Café will be opening later in 2023!
Pink Willow will be a chic, brand new cafe attached to the Oak Street Inn and Lounge.
They'll serve delicious breakfast bowls and drinks, making it a great spot to relax and enjoy a meal in the morning.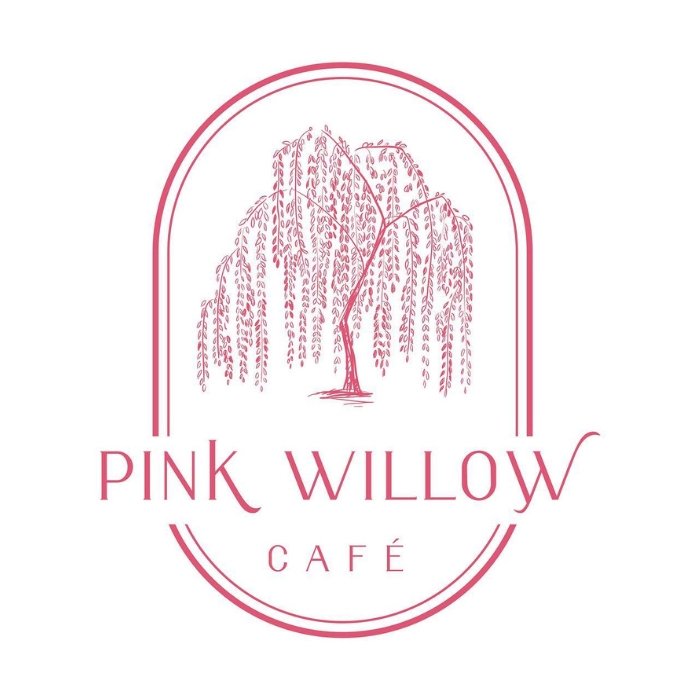 The Oak Street Inn will be a new inn and lounge located at 5521 Oak Street in the heart of Old Town Cottleville.
It'll feature rooms for guests to stay in, an upscale restaurant & cocktail bar, rooftop patio, plus a hip new speakeasy in the basement!
Local Shopping
Blooming Daisy Marketplace
The Blooming Daisy Marketplace is a local favorite shop in Cottleville.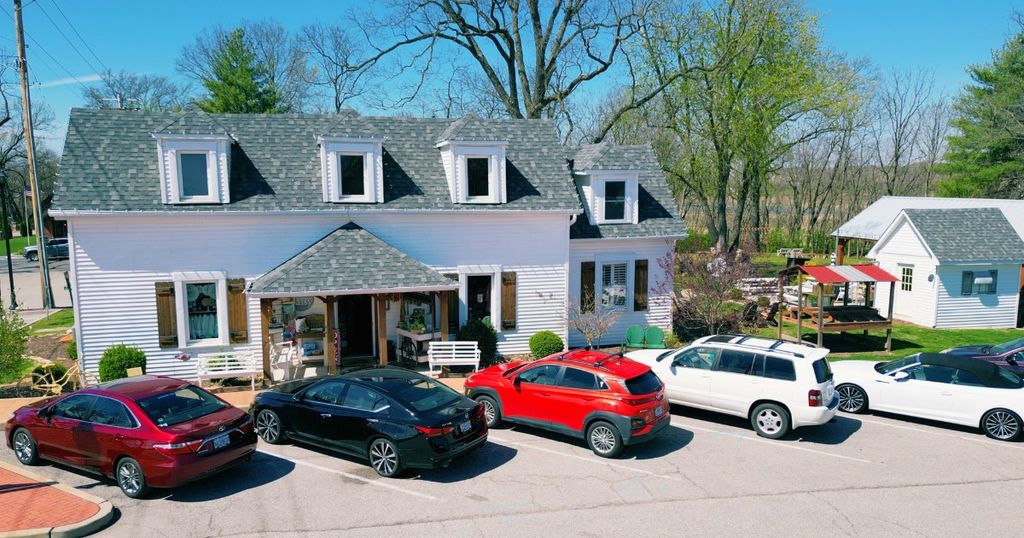 You'll find hand-crafted goods, vintage items, clothing, and home décor.
The shop has a very quaint, boutique charm, and it shows the type of atmosphere Old Town Cottleville is all about.
Lily and Day
For all the fashionistas, a stop at Lily and Day is a must.
This boutique was started in 2018 by 2 local moms who wanted to share their love of fashion with Cottleville.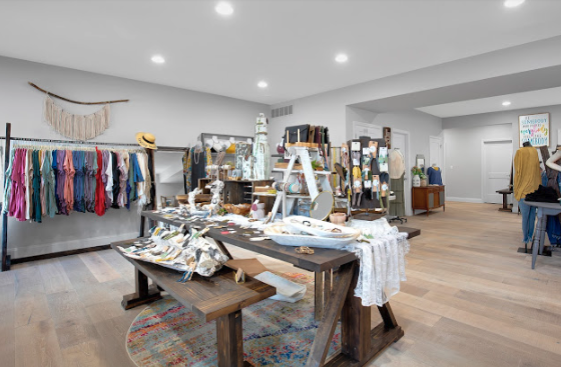 It's a great place to get clothing, accessories, home items, and personal gifts.
Their mission is to bring great quality products to women of all ages and styles who want something special to wear.
Whether you're shopping for yourself or getting a gift for someone you love, Lily and Day will have something unique.
Cottage Craft Store
If you're into arts and crafts, you'll want to stop by the Craft Cottage Store in Old Town Cottleville.
They have a huge inventory of vinyl and glitter for any project you're working on.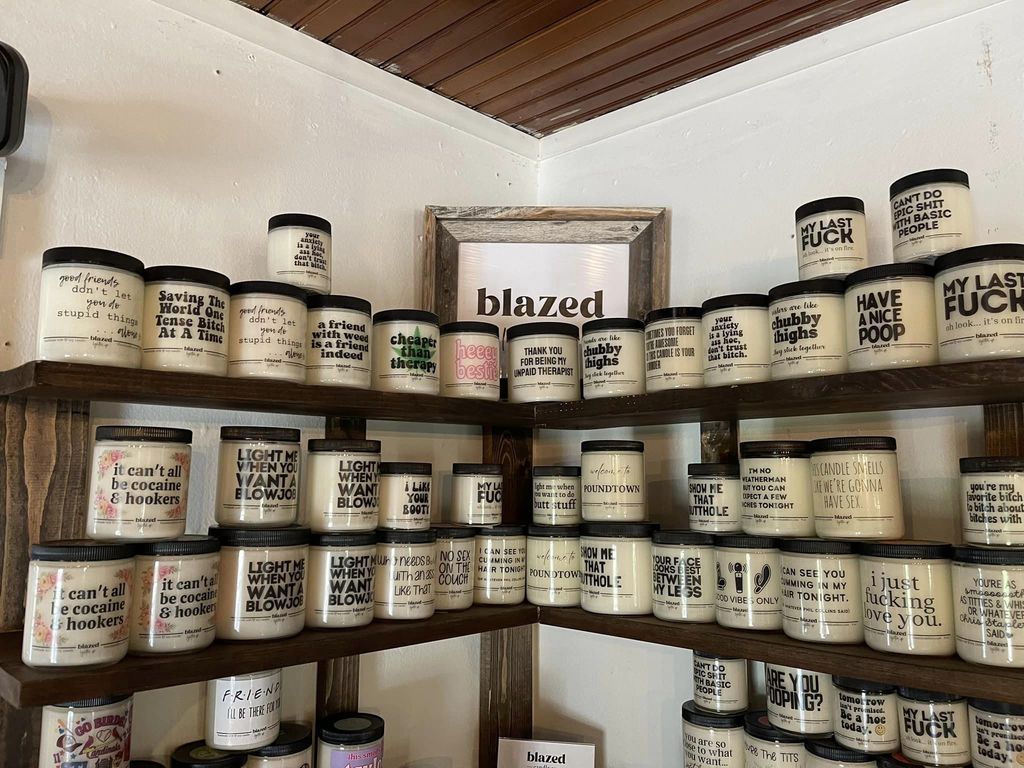 Plus, you'll find all kinds of candy, goodies, and candles that smell incredible.
Talulah's Scents, Décor & More
Candles, incense, flowers, and snacks galore!
Talulah's is a wonderful boutique to stop in for all sorts of scents, decor, and festive items in Cottleville.
If you're looking for good scents for your home, you've got to add Talulah's to your list if you're shopping in Old Town.
Parties & Wedding Venues
Public School House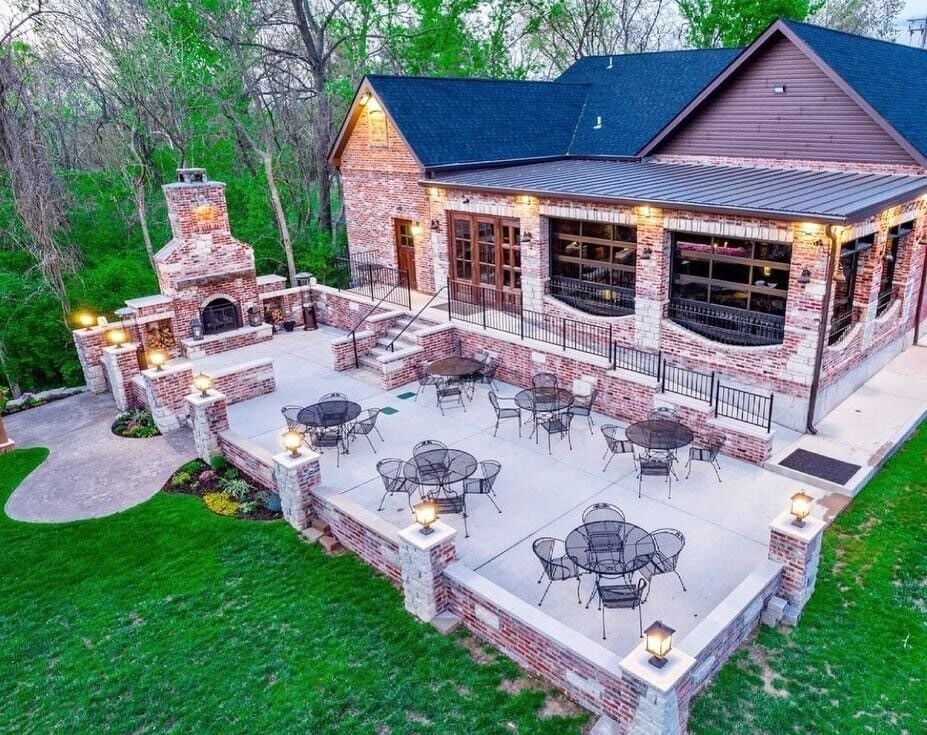 Public School House is one of our all-time favorites in Cottleville.
From their Christmas-themed get-togethers to the outdoor igloos they offer for St. Patrick's day, there's always something fun happening.
We had our Gateway Realty Group Christmas party here in December and plan on doing it again this year!
Tickets sell out fast, so if you want to buy a table during one of the pop-ups here, act quickly.
Public School House offers individual tables during pop-ups for the public, and they also have wedding packages if you'd like to rent the whole place.
Piazza Messina
Piazza Messina is one of Cottleville's top wedding venues. It's a blend of modern elegance and Italian country charm.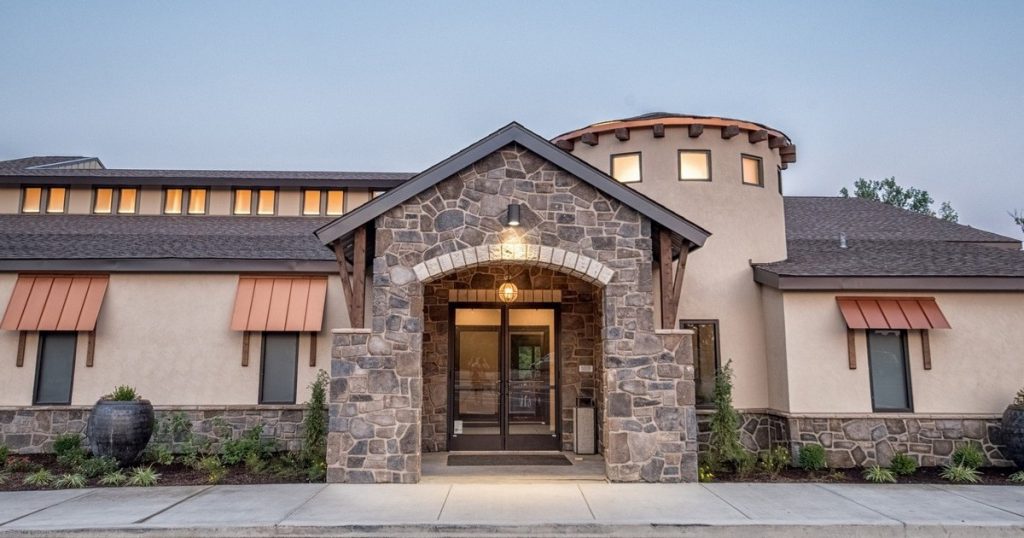 It features a beautiful indoor event space, an outdoor courtyard, and gorgeous views of the small lake. The lake is by far one of the best spots for wedding photos in Cottleville.
Its unique blend of style, flexible options, and exceptional service make Piazza Messina one of the coolest wedding venues in St. Charles County.
Stone Soup Cottage
If you're looking for a smaller, more intimate setting, you'll find it at Stone Soup Cottage right down the street from Old Town Cottleville.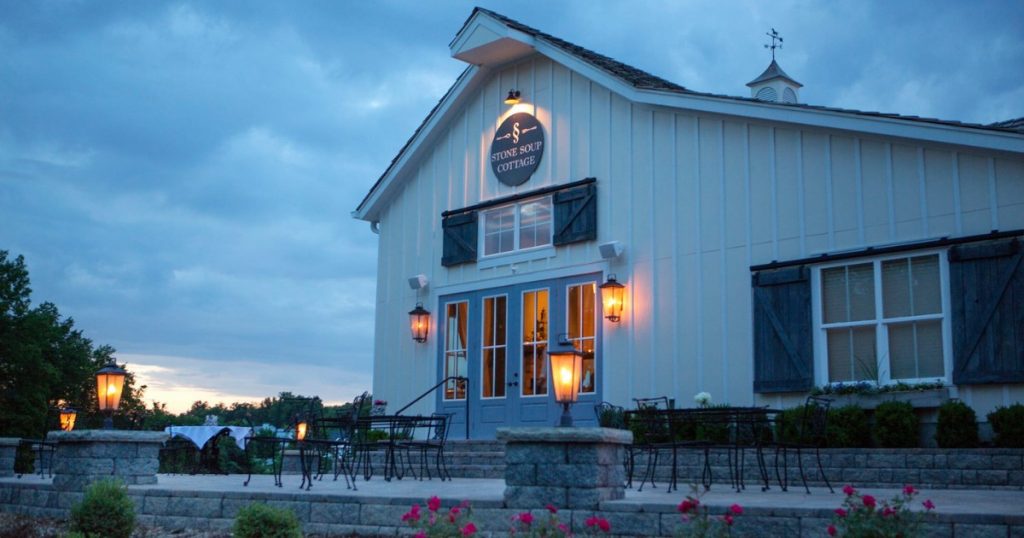 This place is like a fairytale come to life! With its rustic charm and intimate setting, it's perfect for couples looking for a cozy, romantic spot to tie the knot.
Plus, the top-notch service and high-end cuisine will have everyone talking about your special day for years to come.
Trust me, Stone Soup Cottage is a dream venue you won't want to miss!
Outdoor Activities
Cottleville Caddy Shack
If you walk around Cottleville, you'll see a bunch of golf carts!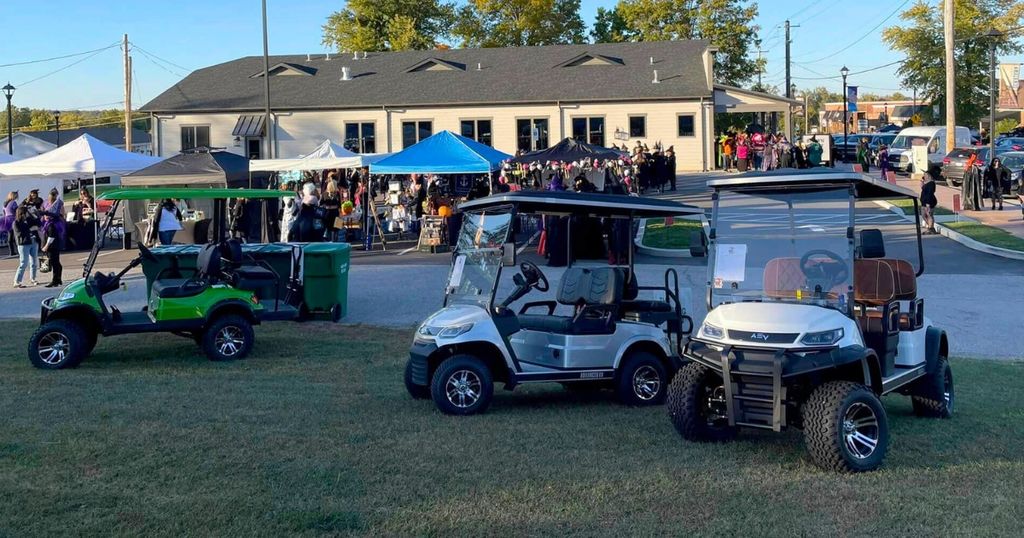 And at Cottleville Caddy Shack you can get your own golf cart or electric bike to ride around Old Town.
Whether you're looking for a 1-person e-bike or a golf cart with room for 6, Cottleville Caddy Shack has you covered.
Legacy Park
Craving a little outdoor fun? Head on over to Legacy Park, where you'll find walking trails, a playground, amphitheater, and picnic areas.
It's the perfect spot for families or a social get-together.
If you're a golfer, don't forget to swing by Old Hickory Golf Club right down the street from Old Town Cottleville for a round on their well-maintained course.
For a touch of history, be sure to visit St. Joseph's Church and Cottleville Cemetery. Dating back to the 1800s, this historic site provides a fascinating glimpse into the town's past.
And while you're at it, swing by the Cottleville Veterans Memorial to pay tribute to the brave individuals who have served our country.
Local Events
Of course, one of the best things about visiting a small town is getting involved in local events.
Check out the town's event calendar to see what's happening during your visit. There's always something fun going on.
So there you have it, folks! Old Town Cottleville is a charming historic district with something for everyone.
Whether you're a history buff, a foodie, or just looking for a charming escape, this town has you covered.
Pack your bags and get ready to create some unforgettable memories in Old Town!