If you're looking for luxury living in the heart of St. Louis County, look no further than Frontenac, Missouri.
This ritzy suburb offers residents an exclusive lifestyle with prime location, top-ranked schools, multi-million-dollar homes, and upscale amenities.
Keep reading for the inside scoop on what it's like calling Frontenac home.
Frontenac's Great Location
Frontenac sits right in the middle of St. Louis County off I-64/4- between Creve Coeur to the north and Kirkwood to the south.
Frontenac's ideal location provides easy access to everywhere in the metro area.
Whether you're commuting to work, heading to the airport, or exploring downtown, it's a short drive from Frontenac.
The small 2.8 square mile community is also surrounded by other affluent areas including:
Ladue
Town & Country
Creve Coeur
Westwood
If you need a central location with easy access to work, schools, and fun, Frontenac is a great option.
A Small Town with Big Wealth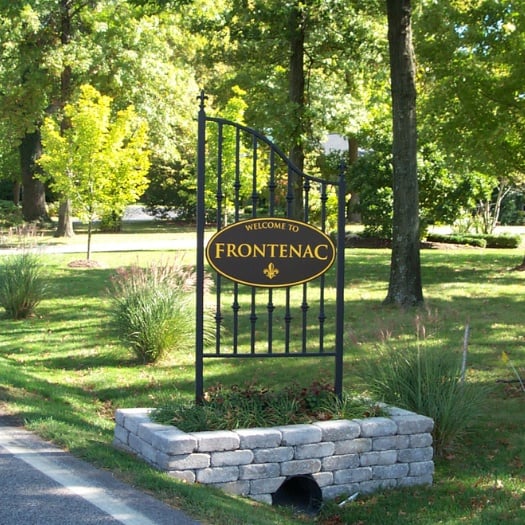 With just over 3,500 residents, Frontenac is known as one of the smallest yet most affluent places in Missouri.
The median household income in Frontenac is $166,901.
This means Frontenac's typical income is much higher than the median income in the United States. Frontenac household income is in the 99th percentile.
Frontenac consistently tops lists as one of America's most affluent zip codes.
History of Frontenac, MO
The city of Frontenac dates back to the early 19th century.
The area now known as Frontenac first took shape in 1832 when Presbyterian settlers established the Des Peres congregation and built a stone church called the Old Meeting House.
This historic church still stands today on Geyer Road as the oldest Protestant stone church in Missouri. It's also on the National Register of Historic Places.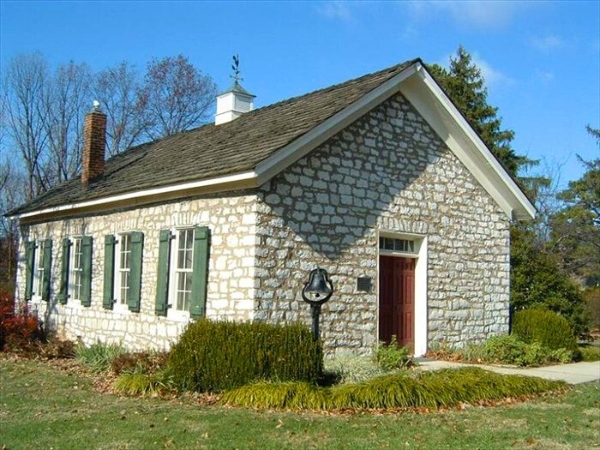 A few decades later in 1857, a pioneer farmer named John Snyder constructed a stately Federal-style brick home on 250 acres of farmland near present-day Lindbergh Boulevard.
The Snyder Farmhouse became another local landmark, remaining in the Snyder family for over a century until 1974. Fast forward to 1947 when the present-day Frontenac area was incorporated as a village.
Finally in 1950, the Village of Frontenac was incorporated as a full-fledged city.
From its humble beginnings in the 19th to the regal suburb we know today, Frontenac has maintained its upscale character while evolving into one of St. Louis' most affluent communities.
Luxury Homes and Neighborhoods in Frontenac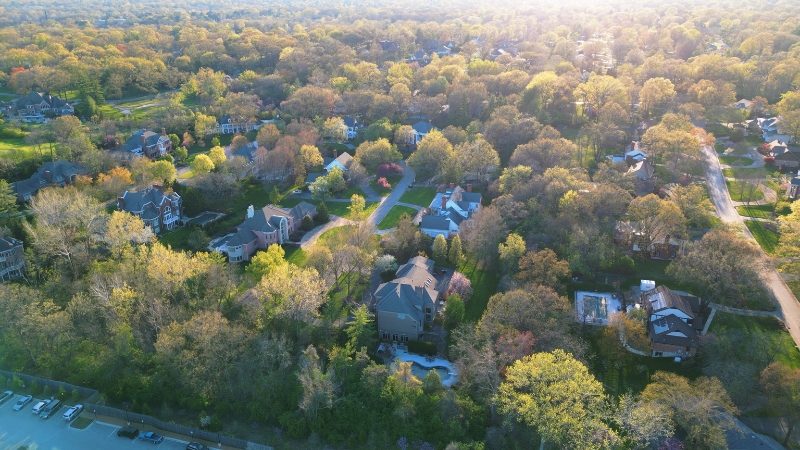 Neighborhoods in Frontenac cater to upscale living with expansive estates and mansions often priced in the millions.
Winding streets lead through private neighborhoods in Frontenac with custom built estates.
It's not unusual to find amenities like movie theaters, saunas, and wine cellars in homes.
With its refined elegance away from the big city bustle, Frontenac ranks 15th on Niche's Best Places to Live in Missouri. 
While most Frontenac homes are detached single-family, there are some villas and townhomes integrated into luxury communities. These townhomes might provide a lower cost way to buy into Frontenac, starting in the $600,000s.
Home Prices in Frontenac
Homes in Frontenac typically sell anywhere from $600,000 on the low end to $4.5 million on the high end.
Lower priced homes from the $600's and $800's will typically be smaller with more outdated interiors. Above $1 million, you'll see more homes with updated kitchens, bathrooms, and more modern features.
Top-Tier Schools in Frontenac
Education is a top priority, and Frontenac delivers with some of the best schools in St. Louis.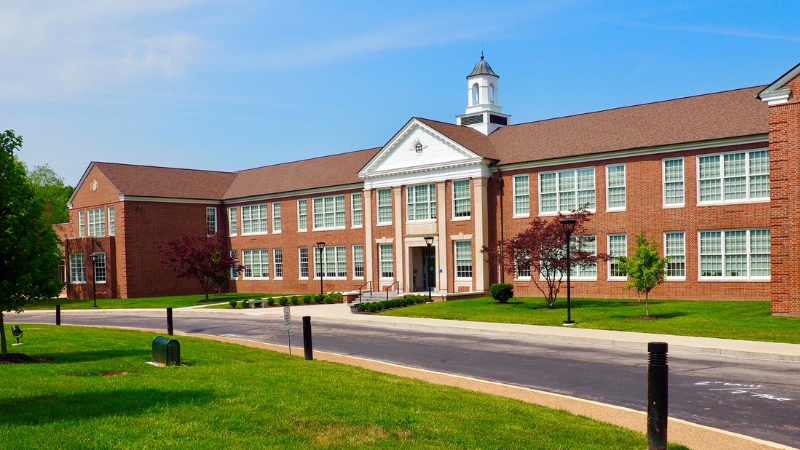 Most of Frontenac lies within the Ladue School District which is ranked third in the state and has a Distinction in Performance accreditation by the Missouri Department of Elementary and Secondary Education.
According to the district, 82% of the Class of 2022 attended a four-year college and 10% attended a two-year college.
Ladue Horton Watkins ranks extremely well when it comes to standardized testing and college prep.
For example, their ACT numbers are well above the Missouri and National average rankings: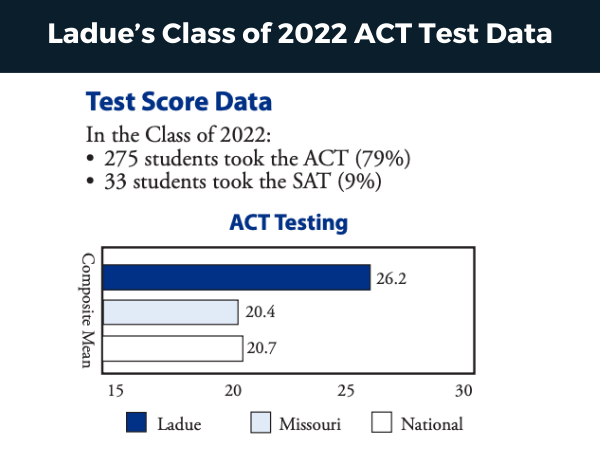 A small area of homes in the southern portion of Frotenac are located within the Kirkwood School District.
Private Schools around Frontenac
If you're looking for a private school option, there are several high-ranking choices in and around Frontenac:
Mary Institute and St. Louis Country Day: secular coed k-12
John Burroughs: secular coed 6-12
St. Joseph's Academy: Catholic girls school 9-12
Chaminade College Prep: Catholic boys school 6-12
Saint Louis Priory: Catholic boys school 7-12
Villa Duchesne: Catholic coed in preschool & elementary; All-girls grades 7-12
Visitation Academy: Catholic girls school k-12
All of these choices will be minutes away when you live in Frontenac.
Whether you end up living in the Ladue side of Frontenac or Kirkwood, you can trust that your school-age kids will receive an excellent education. And you will have stellar options for private schools if you choose to take that route.
The Frontenac Lifestyle: Shopping, Dining, and Fitness
The main hub of shopping in Frontenac is in the commercial district at the intersection of Lindbergh Boulevard and Clayton Road. 
Plaza Frontenac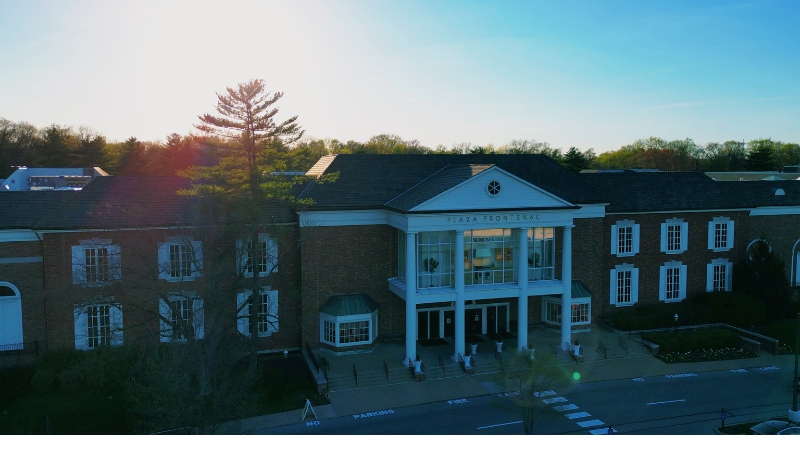 Plaza Frontenac is a luxury mall right in the middle of Frontenac. It offers access to upscale shopping, dining, and community events. 
Plaza Frontenac serves as a fun hangout with high-end shopping and dining options.
Inside Plaza Frontenac you'll find shops like 
Saks Fifth Avenue

Gucci

Louis Vuitton

Neiman Marcus

Tiffany & Co

Lululemon
And a bunch of other high-end stores for clothing, furniture, and appliances. 
You'll also find Landmark Theatres in the mall if you're in the mood to catch a movie.
In addition to the great shopping, there are some phenomenal restaurants in the area. Some of the best restaurants around Plaza Frontenac are:
Brio Tuscan Grille

BrickTop's

Fleming's Steakhouse

Canyon Café
There are some other shopping centers near Plaza Frontenac like Old Frontenac Square, Le Chateau Village and the Frontenac Grove.
These areas offer several specialty retailers that draw people from around St. Louis for shopping.
Life Time Fitness
After a shopping spree and delicious meal, you can get a workout in at the brand-new Life Time Fitness next door to Plaza Frontenac.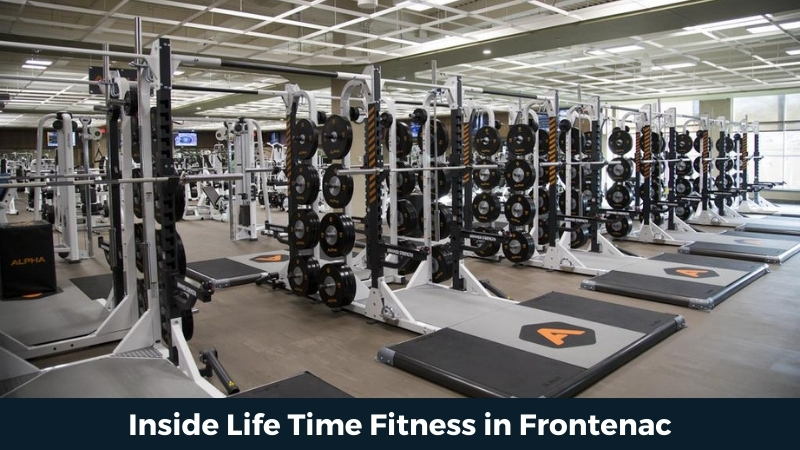 Finished in 2019, the 128,000 square foot athletic resort hosts:
Indoor and outdoor pools
Plenty of free weights and machines
Group fitness studios
Personal training
A spa
Smoothie bar
Frontenac Racquet Club
If you're interested in pickle ball and tennis, you will absolutely love the Frontenac Racquet Club.
For almost 50 years, Frontenac Racquet Club has been the premier destination for tennis in St. Louis.
With ten indoor courts, locker rooms, and talented tennis pros, Frontenac has everything expected of a first-class tennis facility.
Whether you live for racquet sports or just want to have fun, the Frontenac Racquet Club is the place to be.
The Pros and Cons of Living in Frontenac
What to love
Living in Frontenac, you'll enjoy the perks of a prime location, shopping, entertainment, and top-ranked schools.
A recent independent resident satisfaction survey found that over 90% of Frontenac residents rated the overall quality of city services as good or excellent.
There are numerous activities and events for all ages within a short drive of Frontenac.
Simply put, Frontenac offers the best of exclusive country club living in the heart of the St. Louis area.
Some downsides to consider
Frontenac is a growing suburban area. For some, the urban sprawl may minimize the small town feel of the Frontenac area.
Additionally, the cost of living in the Frontenac area is higher than the U.S. average which may deter people from moving to the community. You'll get more bang for your buck living in western communities like O'Fallon compared to Frontenac.
If you're new to the St. Louis area, the sweltering summer humidity and chilly winters may be a downside, but the beautiful fall and spring weather may make you forget the other weather woes.
Big Developments and a Future Frontenac
Frontenac has a few big developments underway for its residents.
St. Louis County Library Headquarters
A new $22 million St. Louis County Public Library headquarters is slated to open in 2024 on South Lindbergh Boulevard, replacing the previous outdated building.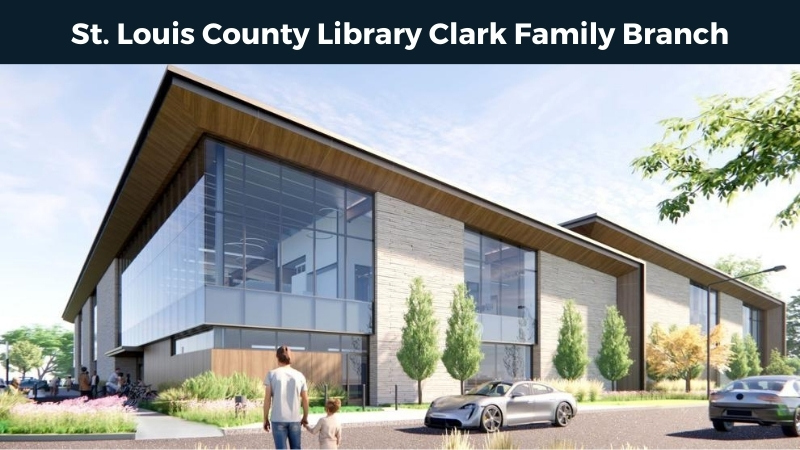 The headquarters will be known as the Clark Family Branch, thanks to a generous $4 million donation from the Robert G. Clark Family.
The new 74,000 square foot library will feature an outdoor courtyard, walking trail, creative space with a 3D printer and recording studio, interactive children's area, event space, private study rooms, and a computer lab.
Though technically in Ladue, the new headquarters is right across Lindbergh from Plaza Frontenac. It will be a great gathering place for Frontenac residents and students.
New St. Louis County Library Administrative Building
St. Louis County Library just completed an administrative building in 2023 at the corner of Spoede Road and Clayton Road.
It's a smaller building than the new headquarters and it mainly houses administrative staff.
Improving Frontenac by 2050
In addition to the new library, the city of Frontenac is working toward the implementation of the Frontenac 2050 Plan. This plan proposes improving walkability, acquiring land for a Frontenac City Park, and developing a signature streetscape for the area.
By the end of 2024, the Frontenac area will have access to a continuous sidewalk on the west side between Clayton Road and Kirkwood.
Improvements to stormwater management will also be seen with a concrete curb and gutter on both sides of Geyer Road.
Each phase of the Frontenac 2050 Plan has been carefully crafted to ensure that Frontenac residents benefit as much as possible.
As part of the future plan, an extensive creek restoration project was recently completed to address erosion issues. Crews stabilized creek banks and beds using native vegetation to control runoff. This award-winning sustainability initiative restored the creeks to enhance both the ecology and beauty of the Frontenac area.
Moving to Frontenac, MO in 2023
If you value excellent schools, privacy, and luxury living above all else, Frontenac is one of the best suburbs in St. Louis for you.
If you see yourself calling Frontenac home, let us help you! Get in touch with us today to start your home search in Frontenac or get a head start on selling your current house.
We understand how big a move can be, and we'll ensure your transition goes smoothly.