Welcome to Town and Country, Missouri! T&C is a charming suburb nestled within the heart of St. Louis County.
As the name suggests, Town and Country is the perfect blend of suburban amenities with a little bit of country living charm.
In this guide, we'll explore what it's like to call Town and Country home, and things to know if you're considering moving to this upscale town in the St. Louis metro area.
Living in Town and Country Explained
Town and Country originally was established as a small country retreat, close to all the amenities of St. Louis County.
It was full of big parcels of land, equestrian estates, and beautiful homes with plenty of acreage and privacy.
These days, it's been much more developed than it once was. But you'll still see those country aspects driving by the white fences, horse pastures, and stunning homes.
Town and Country is definitely an upscale community, and it's not cheap. You'll find a delightful blend of beautiful custom homes on larger properties, picturesque horse pastures, and a quaint town center.
Pros and Cons of Living in Town and Country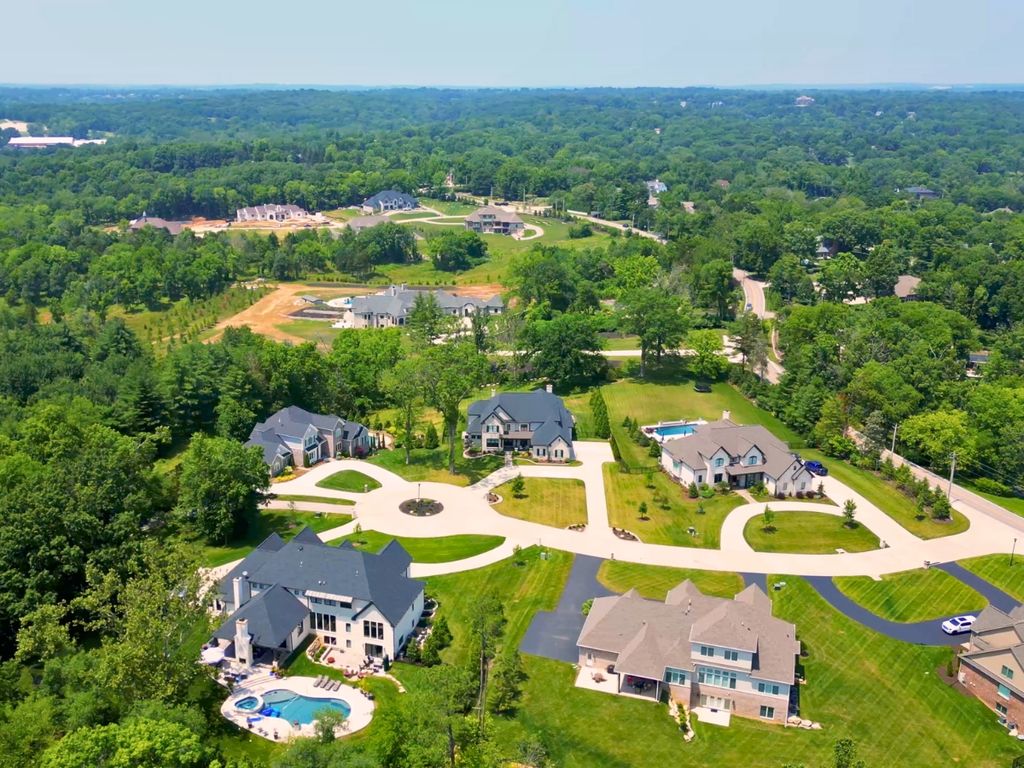 Pros of living in Town and Country
Country Feel with Larger Backyards
Unlike some of the more urban areas, like Clayton, Town and Country boasts homes on more extensive pieces of land, offering residents a sense of space and privacy. If you're looking for a home on 1-3 acres of land, you'll find it here.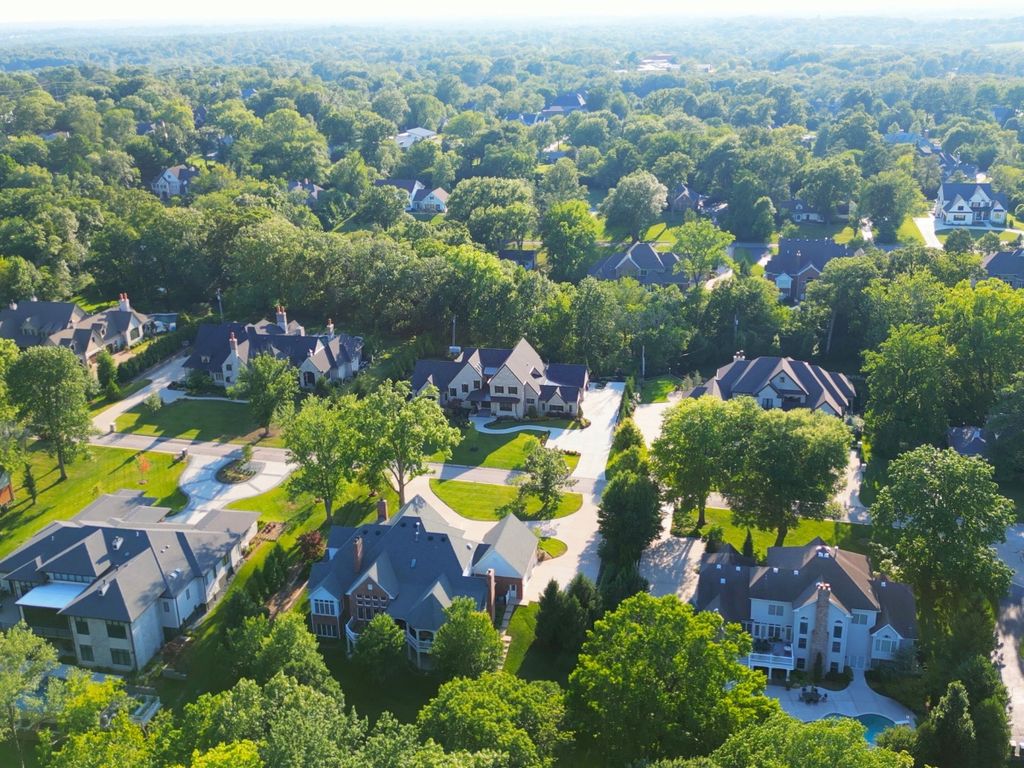 Well-Developed Neighborhoods
Town and Country features an array of custom-built homes and newer developments. You'll see modern architecture that complements the surrounding green landscape and country charm.
Plenty of Green Space and Parks
If you love the outdoors, you'll love living in Town and Country.
There's plenty of parks like Queeny Park and Longview Farm. Town and Country also has sidewalks everywhere, and you'll see plenty of people outside walking with the kids and dogs on a sunny day.
Central Location
Situated in the heart of St. Louis County, Town and Country allows easy access to shopping, highways, and nearby entertainment hubs. You'll be close to I-64/40, I-270, and it's an easy 15-20 minute drive into the City of St. Louis.
Cons of Living in Town and Country
Higher Cost of Living
While Town and Country offers an exceptional quality of life, it comes with a higher price tag compared to some other St. Louis suburbs. Similar to living in Ladue, Town and Country is a high-priced area.
The median selling price is usually $950,000-$1,100,000 in Town and Country.
Limited Commercial Options
While the town center is charming, it may not have all your shopping needs. BUT, the good news is you're super close to attractions like Town and Country Crossing, the Chesterfield Valley, and Plaza Frontenac.
Real Estate in Town and Country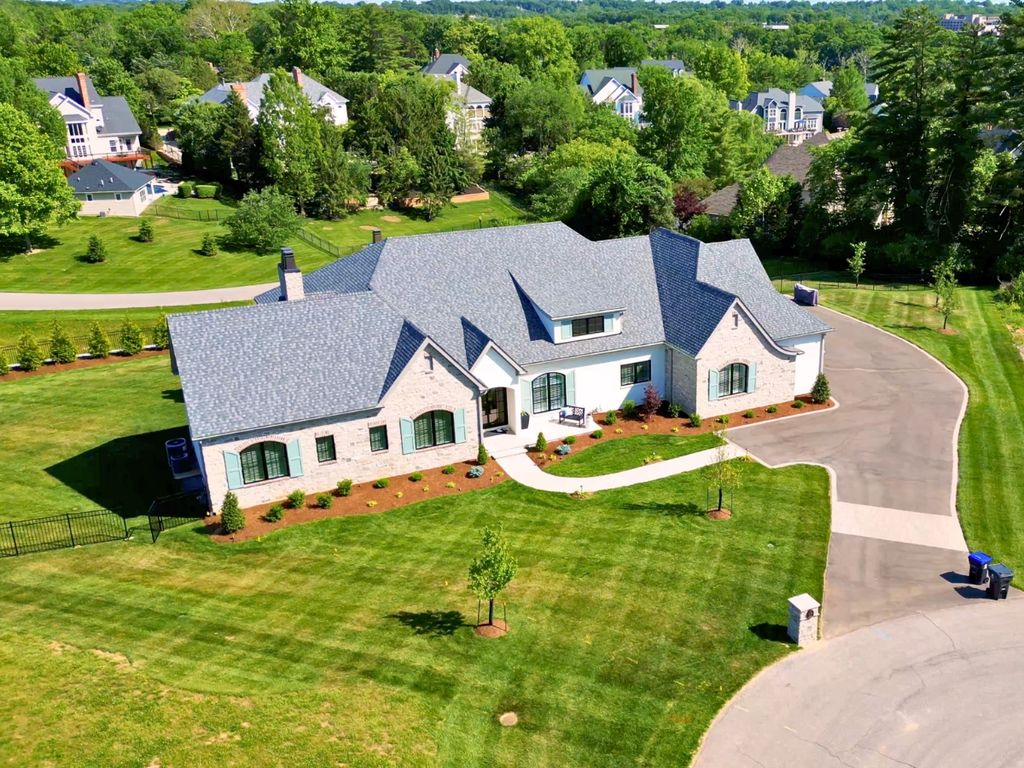 Real estate in Town and Country showcases an array of homes to suit every type of lifestyle you can imagine. From smaller homes around $500,000 all the way to huge estates above $5 million, you'll see a lot of variety here.
The diverse architectural styles found in Town and Country add to the area's appeal. It has a similar style to Frontenac and Creve Coeur with some of the newer infill neighborhoods.
While Town and Country features large custom-built homes and luxury communities, you'll also find charming ranch-style houses and split level homes dating back to the 50's and 60's.
Custom Homes and Housing Trends in Town and Country
Architectural styles in Town and Country vary, adding to the town's character and charm.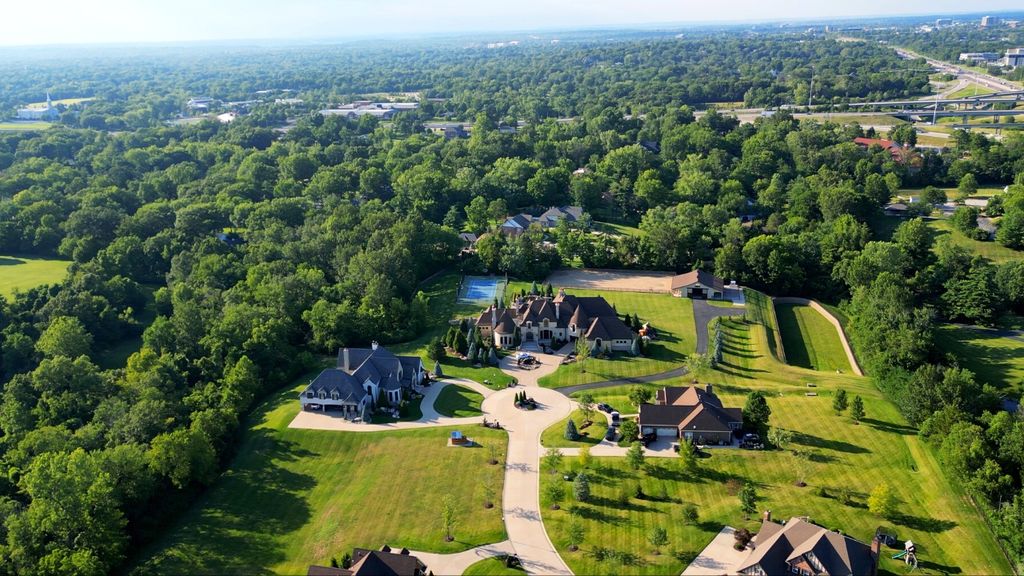 The town has experienced a "tear-down" trend, where older ranches or split-level homes on large lots are purchased and replaced with larger, more modern residences.
Some of these homes turn out beautiful, but some tend to be a bit large for the lot they're on.
While this trend has contributed to a mix of home styles, the city has implemented new ordinances to maintain consistency and balance in the housing landscape.
Homebuilders are required to go through the Architectural Review Board for approval, ensuring that new construction aligns with the city's aesthetic.
The board aims to make sure that houses are not disproportionately large for their lots. The result? Many beautiful new homes on decent sized lots, stunning landscaping, and lavish interior finishes.
Outdoor Activities and Parks in Town and Country
One of the best parts of living in Town and Country is the abundance of outdoor activities and access to beautiful parks. Nature enthusiasts and outdoor lovers will find themselves at home in this scenic suburb.
Queeny Park
One of the crown jewels of Town and Country is Queeny Park.
It's a sprawling green oasis with something for everyone.
Queeny Park includes:
Miles of walking trails
Beautiful lakes
Equestrian facilities for horse riding events
Dog Park
Ice rink
Longview Farm
Longview Farm is another gorgeous park. It's smaller than Queeny Park, but it's right next to the Town Center and Town Square.
This park features picturesque horse stables, horse pastures, playground, and a trail that meanders through the woods and leads to a pond and fountain.
This makes Longview Farm a popular spot for Town and Country residents to unwind and connect with nature.
Town and Country's commitment to green space means that many neighborhoods have private backyards that either back up to lush woods or some of the parks like Queeny and Longview Farm.
If you're looking for a suburban lifestyle with ample access to nature, Town and Country could be perfect for you!
Town Center and Town Square
Town and Country's charming town center is a hub for shopping and community events.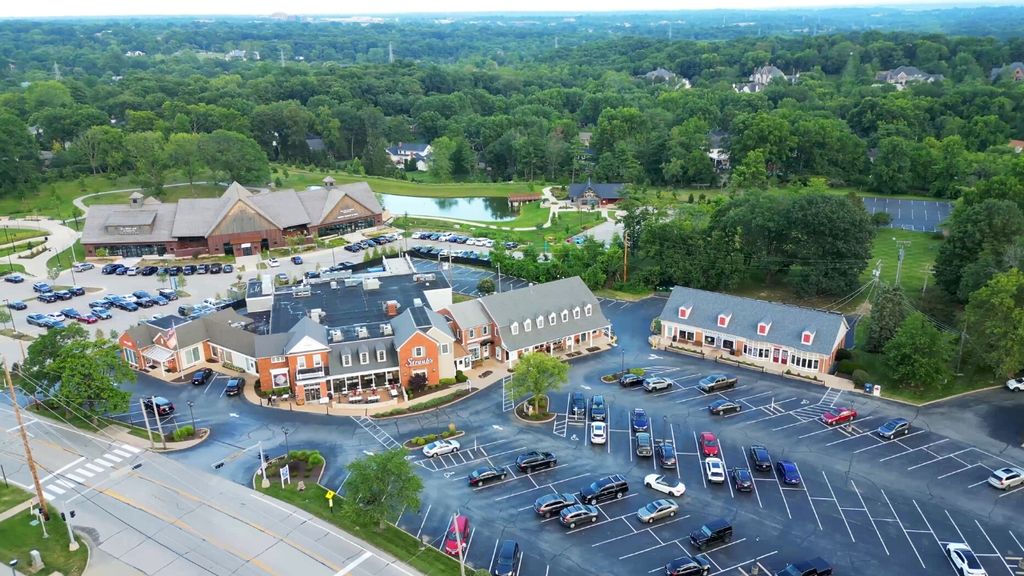 Located at the intersection of Clayton Road and Mason Road, the town center features local stores and popular shops, like Straubs and Starbucks.
The Town Square Development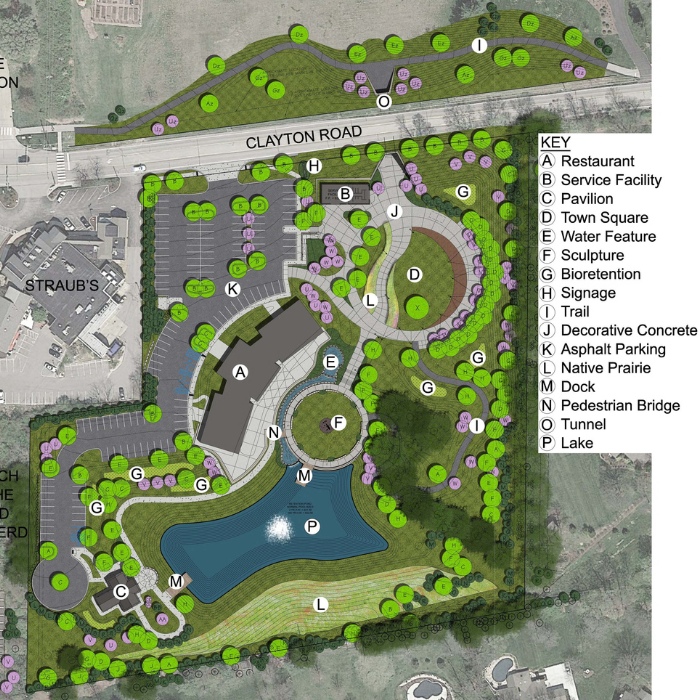 In recent years, Town and Country expanded the Town Center with the Town Square Project.
They added more shopping options, pavilions, walking trails, and a picturesque pond.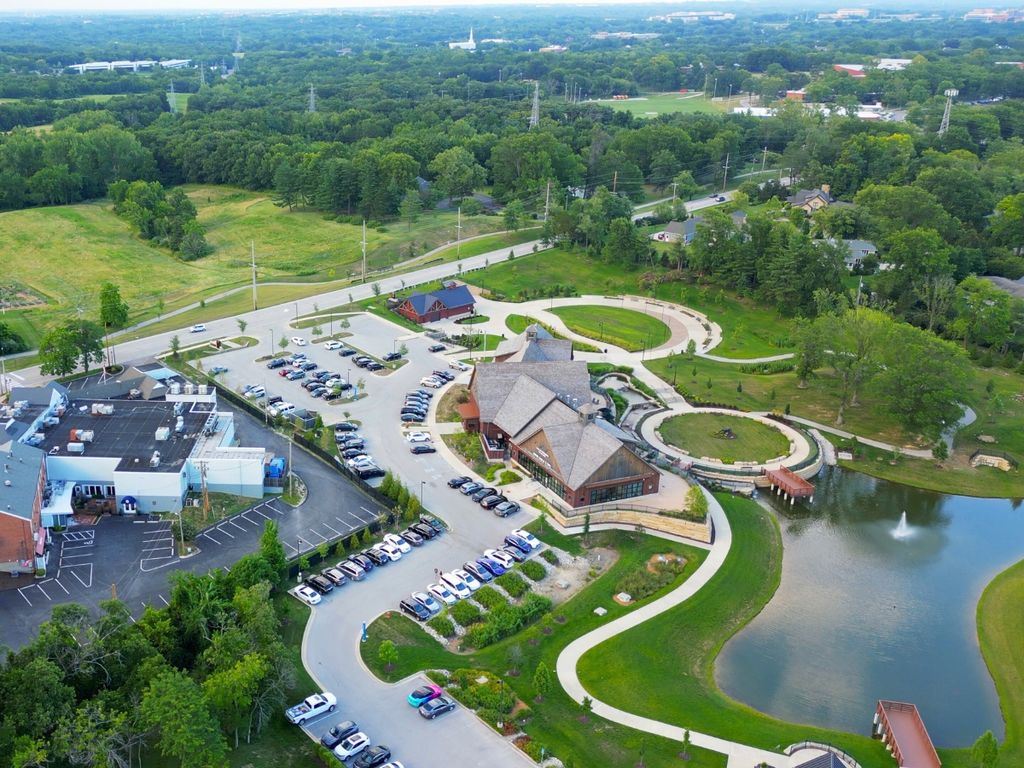 The Town Square even hosts an outdoor area for summer concerts which is one of the many great things about Town and Country!
Town and Country Crossing
While the town center provides a quaint shopping experience, residents seeking a more extensive retail selection can venture to Town and Country Crossing.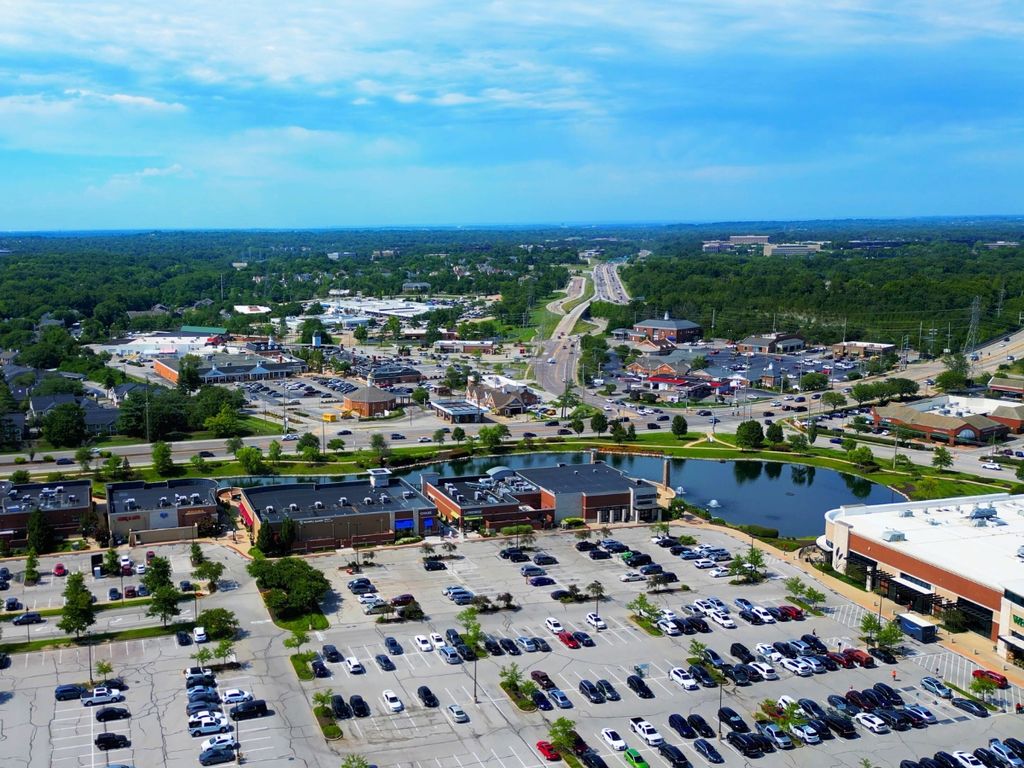 Located towards the western border of Town and Country, next to Chesterfield, this shopping area offers a range of stores, including Target, Schnucks grocery store, Whole Foods, and an REI for outdoor enthusiasts.
Several dining options are available along Clayton Road, with favorite spots like Katie's Pizza and Cooper's Hawk drawing locals and visitors alike.
In addition, Town and Country's central location provides easy access to neighboring areas such as Manchester and Creve Coeur, where residents can find an array of shops and restaurants, ensuring that all shopping needs are met within a short drive.
Schools and Education
Town and Country takes great pride in its schools.
Most of Town and Country town falls within the prestigious Parkway West School District, which consistently ranks highly within the best St. Louis schools.
The district offers a well-rounded curriculum, extracurricular activities, and support systems to ensure students thrive academically and personally.
For some areas north of Interstate 64/40, students attend schools in the Parkway Central School District. Parkway Central is another highly rated district in the St. Louis metro.
Both Parkway West and Parkway Central share a dedication to providing students with a quality education, making Town and Country a sought-after destination for families seeking top-notch schooling options.
Moving to Town and Country, MO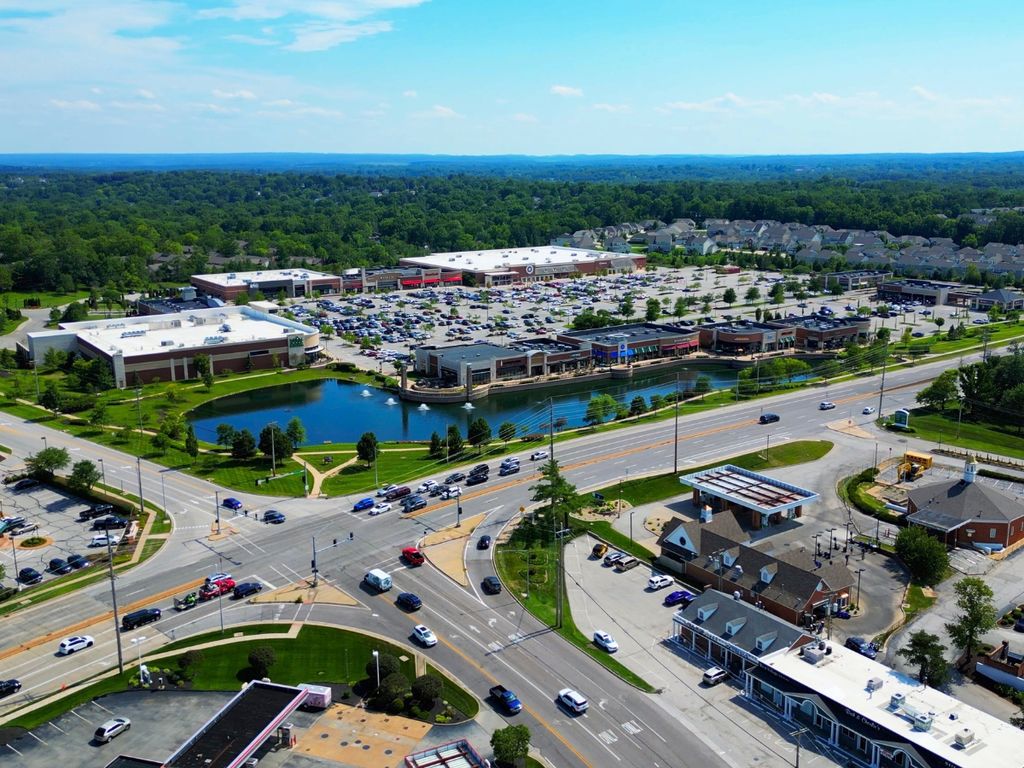 With its mix of architectural styles, spacious properties, and well-maintained neighborhoods, Town and Country showcases a blend of tradition and modern.
Town and Country's gorgeous landscapes, outstanding schools, and accessible location make it an ideal place to call home. If you'd like help with the process of buying or selling in Town and Country, reach out to us! We'd love to help and always love hearing from clients who enjoy reading our blog.